A 19-year-old schoolgirl experienced the biggest shock of her life. She had absolutely no clue she was expecting until she ended up giving birth on the living room floor of her house. 
Life is full of unexpected happenings, and some of them are so unbelievably true that we can't help doing a double-take. This teenager went through the same rollercoaster when she gave birth to her baby after her first day back at school.
The girl said that she was completely unaware of her pregnancy until she saw a baby's head popping from under her school skirt. She mentioned that she felt unwell after her first day at school but had no apparent symptoms of being pregnant.
19-year-old Alexis shared her unexpected pregnancy story on the popular social media platform TikTok. It has garnered more than 6 million views, with several thousand people liking and commenting on the video. She also added:
"My mum mentioning she had heartburn when pregnant with me, me realizing I've had a bit of heartburn lately and taking a pregnancy test during the summer holidays (sic)."
As it turns out, Alexis went through what medical science refers to as "cryptic pregnancy" at the age of 15. Cryptic pregnancy cannot be detected through any medical testing techniques or the common symptoms like nausea and vomiting, menstruation, or baby bump.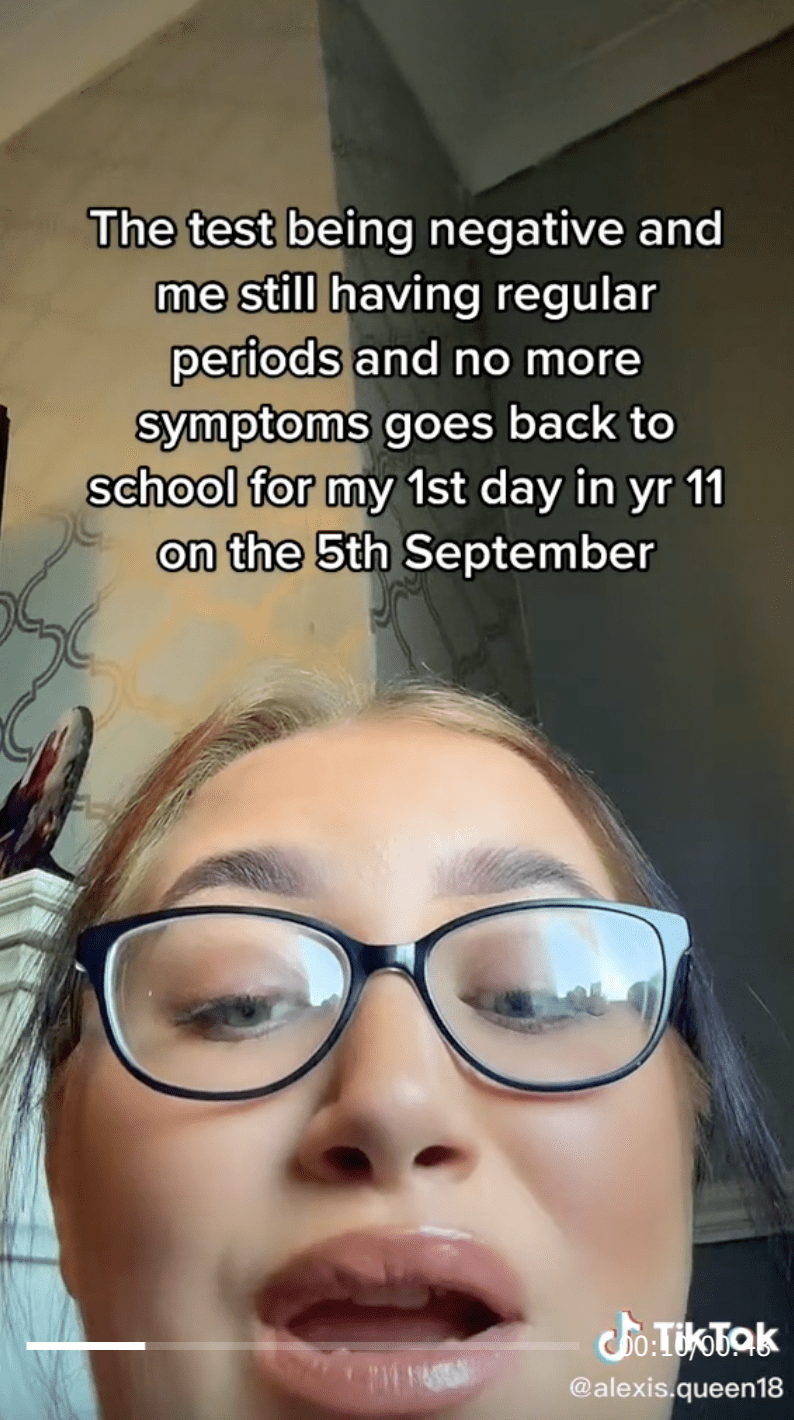 The teen mother explained that she knew something wasn't right. Her mom told her she had undergone heartburn when she was expecting her. When Alexis also experienced slight heartburn, she decided to take a pregnancy test, which turned out to be negative.
Several people were amused by her dad's reaction, who ran for pregnancy tests at such a sensitive time.
On top of that, Alexis didn't miss her periods and had no other usual pregnancy symptoms, so she shoved away all her suspicions and went back to school. However, she felt a little backache, for which she took painkillers and decided to rest.
Unfortunately, the painkillers didn't help, and the teen mom stayed up all night, writhing in pain. After a few hours, she realized she was going into labor.
When the pain became unbearable, at 6 am, Alexis woke her parents up, who thought she was trying to make excuses for ditching school. Eventually, she put on her uniform but ran straight to the washroom minutes later and experienced a sudden need to push.
It was then that she called to her mom, feeling scared and confused, and realized she was about to deliver a baby. When her mother arrived and saw a baby's head under her uniform skirt, their suspicions became true.

The teen mom further shared that while her mother was shocked to see what had befallen her, she was surprised by her dad's reaction, who "ran out the door for pregnancy tests."
Alexis has shared part 2 of her pregnancy video, where she added more details on how she ended up delivering a baby without having any idea she was expecting. She said that the anterior placement of her placenta concealed the baby's kicks and movements.
Many people have been bewildered by her pregnancy story, sharing their views on her TikTok videos. One user commented: "Find cryptic pregnancies amazing yet scary. Like I've had 2 kids and find it amazing that some people really don't know."

Several people were amused by her dad's reaction, who ran for pregnancy tests at such a sensitive time. One user said: "I'm laughing your dad bringing pregnancy tests when the baby's head was already out (sic)."