The Met Gala is finally back on again after two and a half years since the last time it was held. While the show was held more intimately than the usual scale, Met Gala will be back to their usual schedule and size in 2022. Even so, this year's Met Gala is not short of amazing ensembles and stunning fashion statements, and the theme for this year was 'American independence.'
Several of the celebrities took the chance to explore vintage fashion with their own twists while others decided to focus on a certain aspect from their country's extensive history and incorporate it into their clothes. Honorary Chairs of the evening are designer Tom Ford, Instagram's Adam Mosseri, and Vogue's Anna Wintour. Their co-chairs are actor Timothée Chalamet, poet Amanda Gorman, tennis star Naomi Osaka, and the youngest in history, Billie Eilish.
#1 Billie Eilish (youngest to co-chair in history!)
Getty Images
Billie Eilish shares she was inspired by holiday Barbie very much and has been exploring vintage, pinup theme in her previous interview to British Vogue. Her peach dress is a nod to old-school ball gown with low cut tulle corset that was customized by Oscar de la Renta.
#2 Lourdes Leon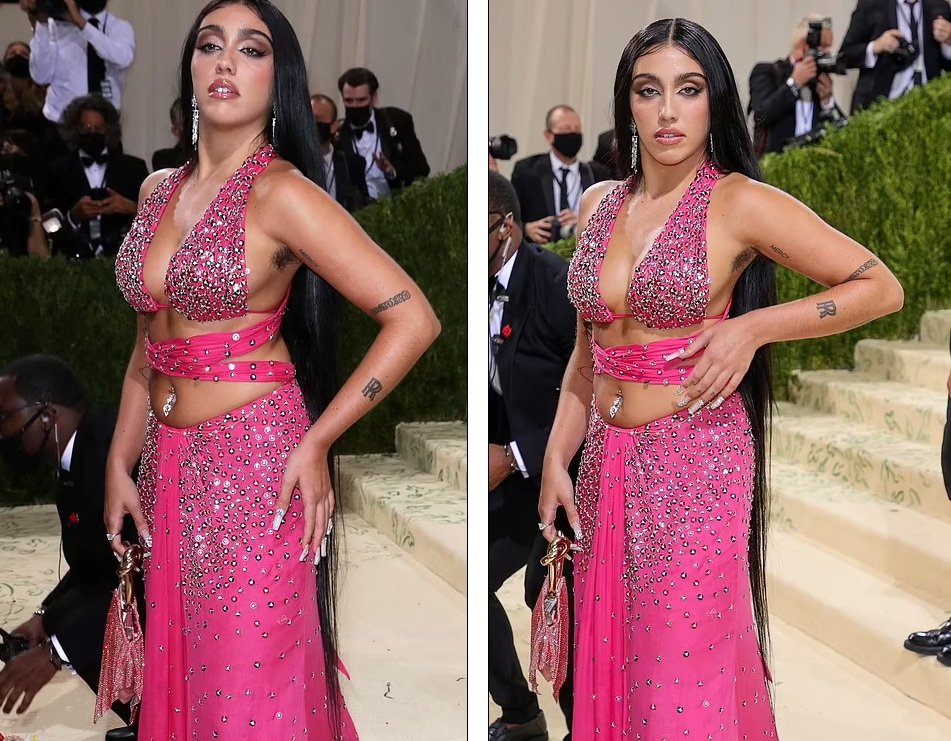 Getty Images
#3 Jennifer Lopez in faux fur by Ralph Lauren
Getty Images
#4 Kim Kardashian in Balenciaga facemask.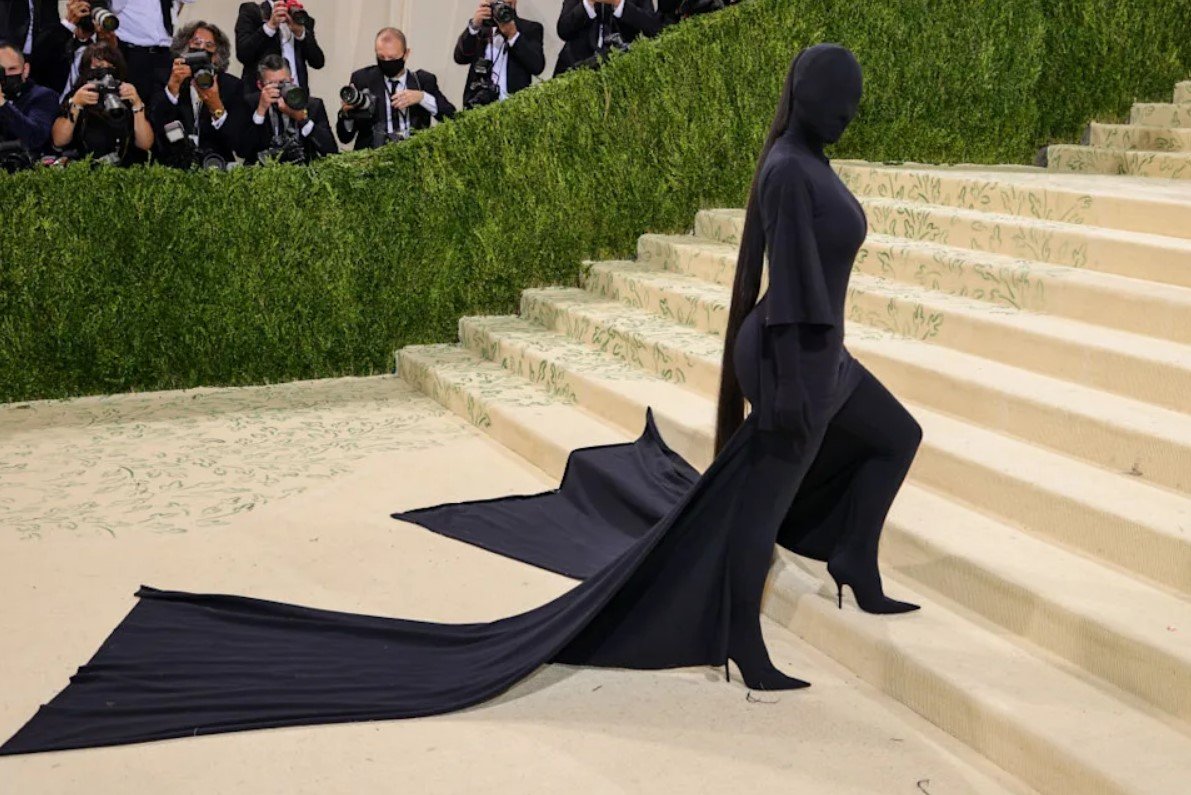 Getty Images
#5 Kendall Jenner
Getty Images
#6 Megan Fox
Getty Images
#7 Rihanna and boyfriend rapper ASAP Rocky.
Getty Images
Her dramatic, wrap up black gown was complimented with a statement diamond necklace that is actually a 267-carats of diamonds from Bulgari. Her boyfriend matched the look by wrapping himself up with a quilted blanket (before taking it off later to reveal the tuxedo underneath).
#8 Justin and Hailey Bieber.
Getty Images
#9 Gigi Hadid
Getty Images
#10 Irina Shayk
Getty Images
#11 Lili Reinhart
Getty Images
#12 Emily Ratajkowski
Getty Images
#13 Saweetie
Getty Images
#14 Naomi Osaka
Getty Images
The co-chair's looks by Louis Vuitton is a mixture of her Japanese and Haitian heritage. The baby blue and fuchsia dress was wrapped and tied by a red obi-style belt. She adds a dramatic flair with the black ruffles and the unusual hairstyle.
#15 Teyana Taylor
Getty Images
#16 Emily Blunt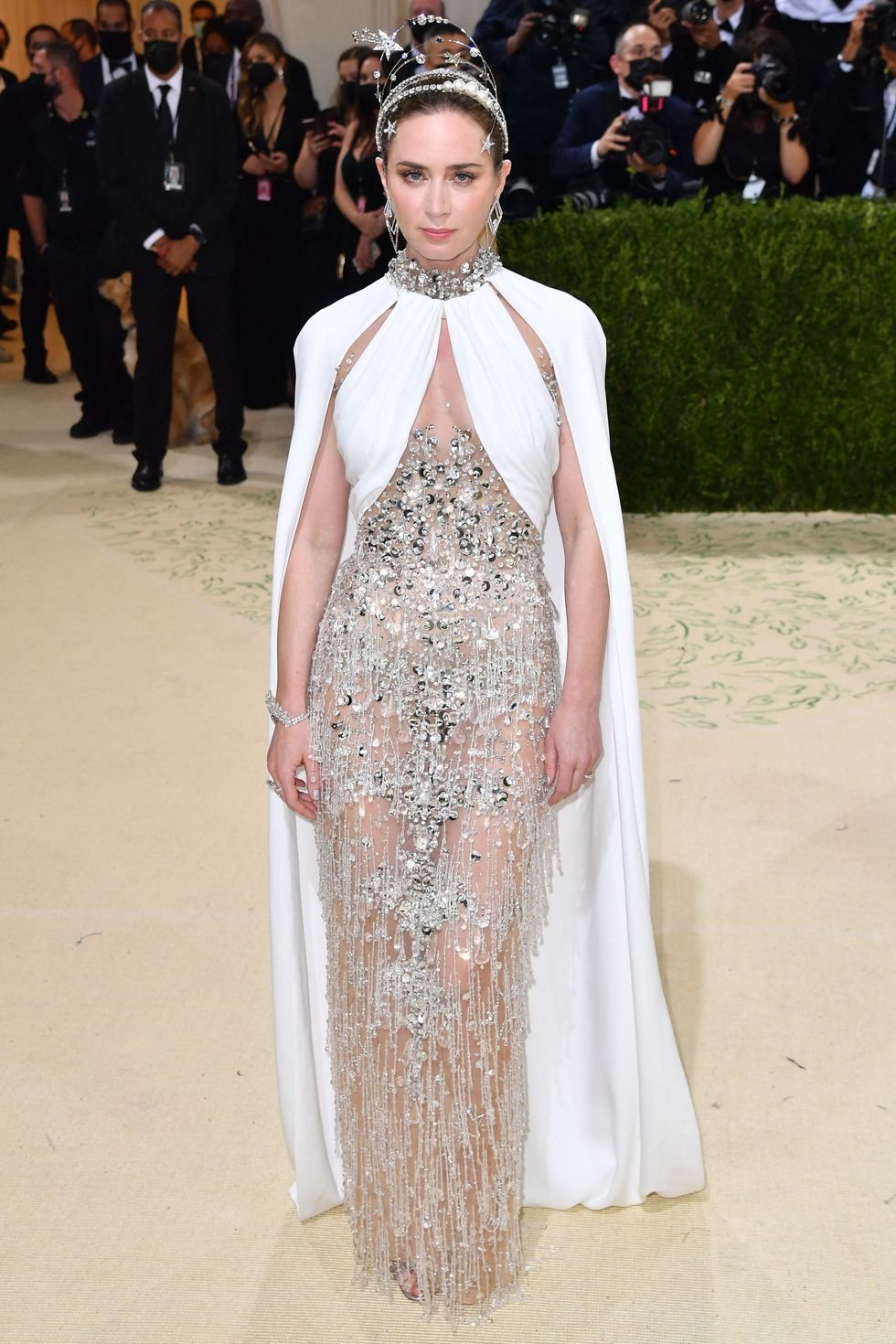 Getty Images
#17 Yara Shahidi
Getty Images
#18 Zoe Kravitz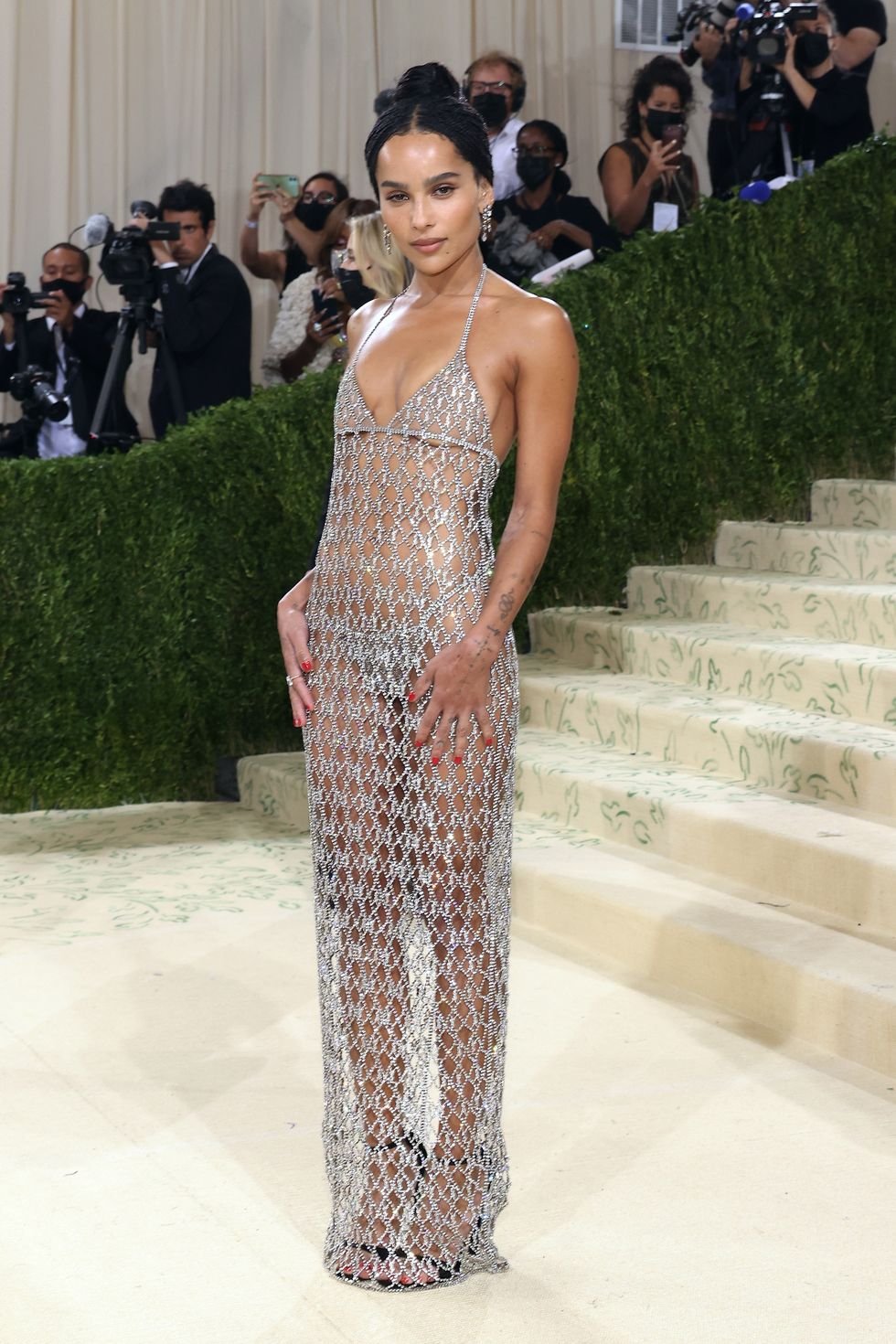 Getty Images
#19 Hailee Steinfeld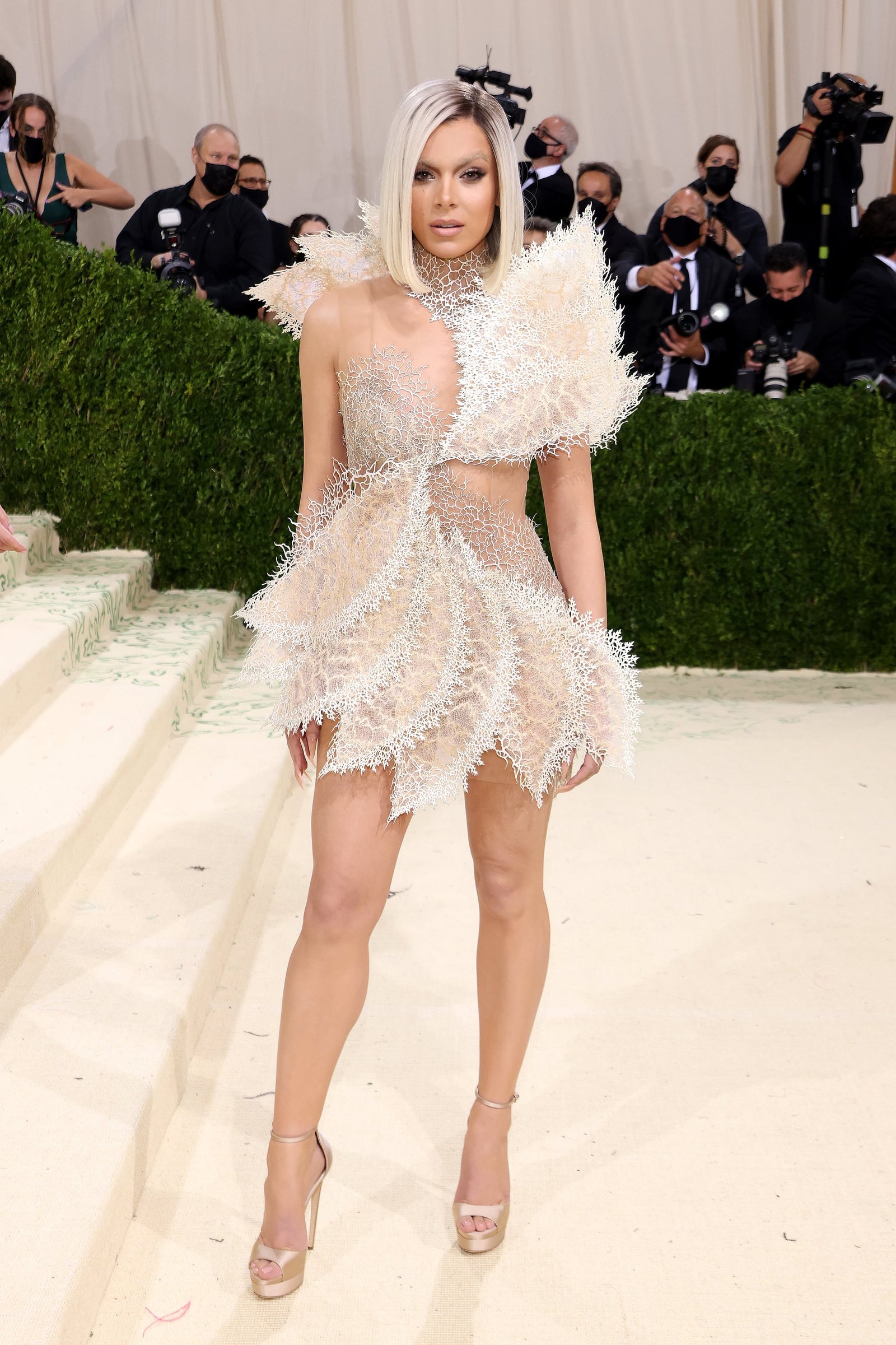 Getty Images
#20 Steph and Ayesha Curry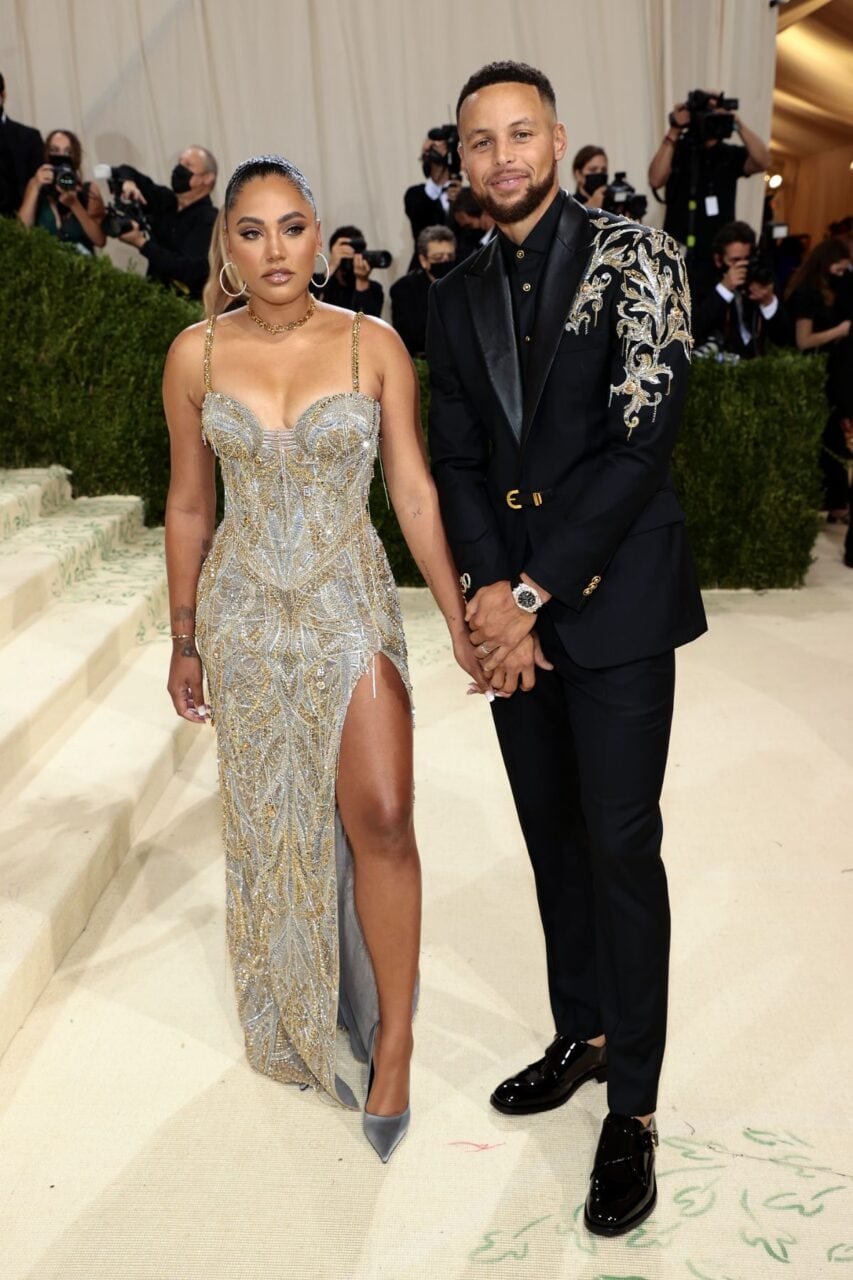 Getty Images
#21 Imaan Hammam
Getty Images
#22 Gabrielle Union
Getty Images
Gabrielle told E! News that this dress actually took "1400 manhours" to finish! Yes, the team had started working on it since April. She shares how it fits the theme this year, "It's all about change. What's needed in America, what's needed in fashion, and with each step, this dress changes and you see different colors. You see different textures and that's what it should be all about."
#23 Chloe and Halle Bailey
Getty Images
#24 Alicia Keys
Getty Images
#25 Lily Aldridge
Getty Images
#26 Cynthia Erivo
Getty Images
#27 Jackie Aina
Getty Images