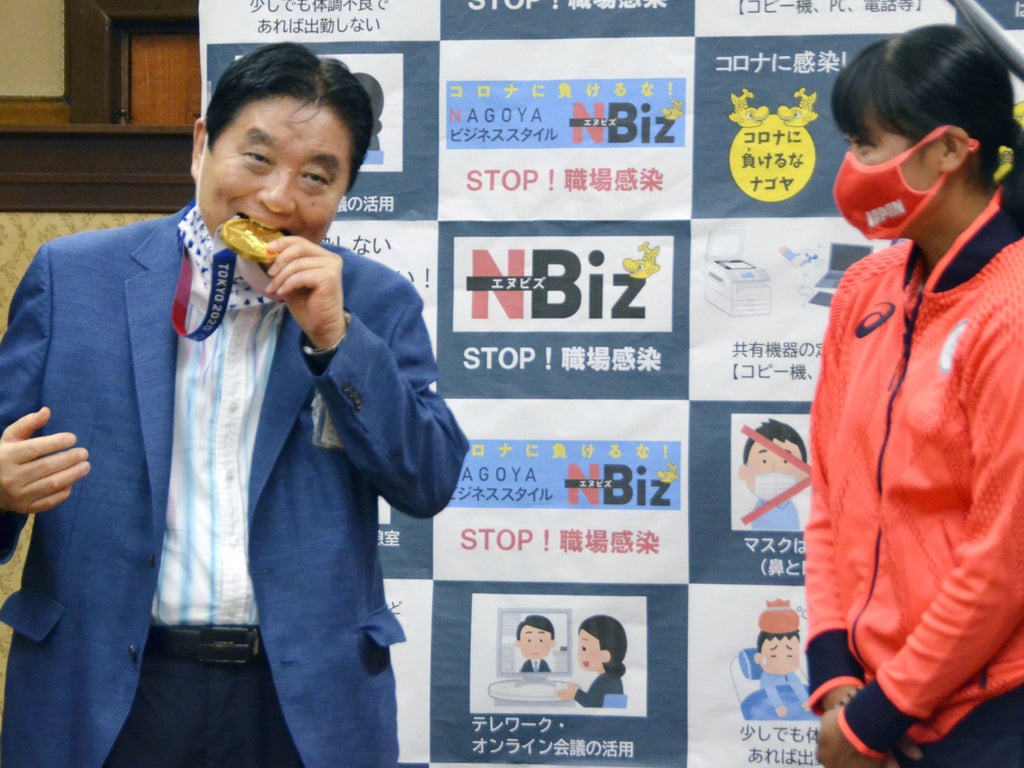 What happens if someone takes a bite out of your Olympic gold medal? Well, you may end up getting another medal free of charge from the International Olympic Committee (IOC).
Miu Goto, a Japanese softball pitcher who is from the city of Nagoya, is getting a replacement after her city's mayor decided to taste the medal during a photo opportunity seemingly without permission.
Goto, alongside Team Japan, won a medal after a vigorous final match in which they beat Team USA 2-0.
After the win, a victory event commenced on 4th August. Local Nagoya city mayor Takashi Kawamura pulled his mask down to make a quick smile and then bizarrely take a bite of Goto's gold medal, as reported by Japanese outlet Kyodo News.
The moment which appeared to be lighthearted did prompt some social media backlash.
Some people believed that this public display wasn't hygienic when considering Japan's Covid-19 restrictions while respecting the gold medal Goto earned. Here's what some people said on Twitter.
​​" WTF, Sir," someone wrote.
"Ewww. And even if there wasn't a pandemic, there's no reason anyone else, but the person who worked super hard to get that medal should be biting it. It's not YOUR medal, "another added.
A third believed that this should be a learning lesson for others in biting medals and wrote: "Hahahaha!!! The whole biting of the medal is a stupid practice. Let this be a lesson."
The BBC even noted that Toyota, the team Goto plays for, also condemned the display, calling it "extremely regrettable."
According to the local Japanese news outlet, Mainichi Shimbun, Kawamura later apologised for the moment, which reportedly garnered over 7,000 complaints to the city authorities.
"I forgot my position as Nagoya mayor and acted in an extremely inappropriate way," Kawamura said, according to BBC, while offering to compensate.
Tokyo Games organizers spoke to Reuters about replacing the medal and said: "With support from the International Olympic Committee and in line with her own intention, Ms. Goto's medal is now set to be exchanged for a new one."
The practice of biting medals is a common quirk at the games but is usually reserved for winners.
On a brighter note, it seems that the organizers of the Tokyo Games made light of the incident regardless as they tweeted, "We just want to officially confirm that the #Tokyo2020medals are not edible!"