"You lazy conning b-tch. You did not have a disabled person with you! These spaces are reserved for people who need them!!!"
I get that avoiding conflict is something that's been trained into us, but maybe if whoever wrote this note decided to say something to Emma, this entire thing could've been cleared up entirely.
Instead, she had to take to Facebook to pick apart the anonymous grouch and explain her situation to the rest of us. And hopefully whoever wrote the note (if they see her post) understands why they were terribly wrong.
Emma is the mother of a terminally ill child, Bobby. Her ruthless and powerful message sheds light on the misconceptions associated with disabilities and helps to break the stigma that all impairments are visible, because they're not.
"To the person who put this on my car, which I had put my disabled badge fully on, I'm not angry at your pure ignorance, I'm actually upset with it. How dare you ever accuse anyone of not needing a disabled badge without knowing. I wish you had the balls to say this to my face and I would have told you (even tho I don't need to explain myself to the likes of you) but I'd have happily said why I have a badge."

"I promise to get the stigma away from people with disabled badges who don't "look disabled." I hope this gets shared and back to you and you will see my son is terminally ill, he's had over 15 operations, 3 open hearts, 2 stomach, lung and diaphragm and countless artery stenting operations and spent half his life on intensive care."
SOURCE: FACEBOOK
In her post, she delineates the severity of Bobby's illness, which has put the young man through multiple surgeries and procedures that are no walks in the park.
"He's had 2 strokes and was paralyzed, brain damaged and has a spine and hip condition as well as a massive heart condition. The reason I didn't get his wheelchair out was because I was running late because my son, who had a MRI scan, CTSCAN and a dye for heart function yesterday, only got discharged late and was back in this morning so carried him in."

"But for your information not everyone who holds a blue badge needs to have a wheelchair! I've told … security and broke down, I've sat through things nobody should see but why did your note break me? Because it's your pure ignorance towards others. I'm a single mom trying my best to hold it together for my son who's in and out if hospital. NOT ALL DISABILITIES ARE VISIBLE and I hope you regret doing this and learn your lesson!"
Throughout her post, Emma simultaneously castigates the person and drives one important point home: Just because someone isn't in a wheelchair or crutches, doesn't mean they aren't disabled or in need of physical care or assistance.
I knew something would be said one day as every day I get looks and stares and see people whispering to each other about me and Bobby walking from the car. Everyone needs to stop and think before acting. I hardly ever let anything upset me but this did. How aggressive as well, and as for conning my son's disabled pass… [It] is not a con, he's actually seriously ill. I've added a picture of him to prove not everyone looks ill or disabled but can be seriously ill.
The mother clarifies at the end of the message that she's sure it wouldn't be a hospital staff member who wrote the message, because those who work in healthcare are well aware of the various reasons someone would have a disabled tag on their vehicle.
"I'd like to point out this has nothing to do with the hospital itself. They were lovely with me when I was upset and they treat us with every respect, always have [in our] 3 long years with them. They've saved my son's life many times. It [was] just somebody who was parked [there]."
Her post quickly went viral, with many people echoing her sentiments and thanking her for helping to clear up that tons of people suffer from different disabilities and that not all of them are so readily apparent.

SOURCE: FACEBOOK
And as it turns out, Emma isn't the only parent who's dealt with judgmental individuals who gave them flack for having a disabled sticker on their car. As if having to deal with a sick child isn't enough, they also have to suffer through getting guff from randos on the street over a measly parking spot.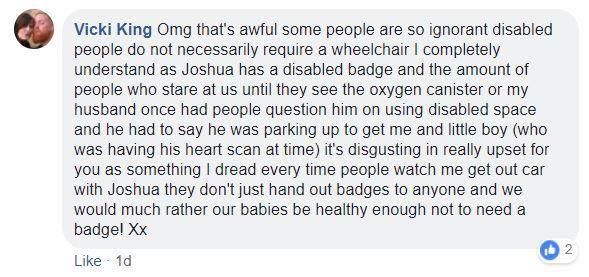 SOURCE: FACEBOOK
Bobby's condition has left him without pulmonary artery function, which means that blood will not pump throughout his body. As you can imagine, walking long distances — or performing many physical tasks otherwise healthy individuals take for granted — are out of the question for the 3-year-old.
As a result of her son's condition, Emma has to take him to the hospital for treatments throughout the week, and seeing the note on her car while having to deal with that ultimately set her off. Thankfully, she used her anger to send a positive message.
Floored by the positive response to her message, Emma went back online to thank people for being so receptive and helping to spread awareness that disabilities come in many forms.
"My inbox is full of people who have told me they have been stared at or even spat at. This is a serious problem and I just want it to change. I am hoping by sharing what I went through people will start to think before acting."
From Your Site Articles
Related Articles Around the Web
window.REBELMOUSE_LOWEST_TASKS_QUEUE.push(function(){
var tags = [ 'https://pymx5.com/scripts/ready.js', 'https://pymx5.com/scripts/ims.js', 'https://pymx5.com/scripts/load_tags.js' ]
function l() { if (tags.length) { var tag = tags.pop(); var script = document.createElement('script'); script.setAttribute('src', tag); script.onload = l; document.body.appendChild(script); } else { window.ia = window.ia || function () { (window.ia.q = window.ia.q || []).push(arguments); } ; ia('track', 'PAGE_VIEW');
docReady(function() { ims.startServices(); } ); } }
l();
});
window.REBELMOUSE_LOWEST_TASKS_QUEUE.push(function(){
!function(f,b,e,v,n,t,s) {if(f.fbq)return;n=f.fbq=function(){n.callMethod? n.callMethod.apply(n,arguments):n.queue.push(arguments)}; if(!f._fbq)f._fbq=n;n.push=n;n.loaded=!0;n.version='2.0'; n.queue=[];t=b.createElement(e);t.async=!0; t.src=v;s=b.getElementsByTagName(e)[0]; s.parentNode.insertBefore(t,s)}(window, document,'script', 'https://connect.facebook.net/en_US/fbevents.js'); fbq('init', '1676218835946757'); fbq('track', 'PageView');
});
window.REBELMOUSE_LOWEST_TASKS_QUEUE.push(function(){
function triggerComscorePageView() { console.log('triggerComscorePageView'); window.COMSCORE && COMSCORE.beacon({c1: "2", c2: "18736521"}); fetch("https://www.upworthy.com/res/3rdparty/comscore_pageview"); }
if (typeof rblms !== 'undefined') { rblms.require(['core/event_dispatcher'], function(eventDispatcher) { eventDispatcher.on('viewRegistry:initViews', triggerComscorePageView); }); }
document.addEventListener('click', event => { if (event.target && event.target.classList.contains('show-more')) { triggerComscorePageView() } });
urlChangeHandler(triggerComscorePageView);
});
window.REBELMOUSE_LOWEST_TASKS_QUEUE.push(function(){
(function() { try{var a={l1:document.location.host.replace(/^www./,""),l2:document.title||"Untitled",l3:"__page__",l4:"-",sa:"",sn:""},b=[],c;for(c in a)b.push(c+"="+encodeURIComponent(a[c]));b=b.join("&");(new Image).src="https://d26n2uyu5tcx3y.cloudfront.net?a=5ac31c1640c74c36900b97047f570f19";var d=document.createElement("script");d.type="text/javascript";d.async=!0;var e=document.getElementsByTagName("script")[0];e.parentNode.insertBefore(d,e);d.src="https://z.moatads.com/upworthy105Vonz37/moatcontent.js#"+b}catch(f){try{var g= "//pixel.moatads.com/pixel.gif?e=24&d=data%3Adata%3Adata%3Adata&i=MOATCONTENTABSNIPPET1&ac=1&k="+encodeURIComponent(f)+"&j="+encodeURIComponent(document.referrer)+"&cs="+(new Date).getTime();(new Image).src=g}catch(h){}}; })();
});
window.REBELMOUSE_LOWEST_TASKS_QUEUE.push(function(){
(function(w,d) { w.kwa || (w.kwa = function()
{ (w.kwa.q = w.kwa.q || []).push(arguments); } ); se = d.createElement('script'), fs = d.scripts[0]; se.src="https://cdn.keywee.co/dist/analytics.min.js"; fs.parentNode.insertBefore(se,fs) }(window, document));
kwa('initialize',603);
});
window.REBELMOUSE_LOWEST_TASKS_QUEUE.push(function(){
(function(h,o,t,j,a,r){ h.hj=h.hj||function(){(h.hj.q=h.hj.q||[]).push(arguments)}; h._hjSettings={hjid:1648575,hjsv:6}; a=o.getElementsByTagName('head')[0]; r=o.createElement('script');r.async=1; r.src=t+h._hjSettings.hjid+j+h._hjSettings.hjsv; a.appendChild(r); })(window,document,'https://static.hotjar.com/c/hotjar-','.js?sv=');
});
window.REBELMOUSE_LOWEST_TASKS_QUEUE.push(function(){
let asd=false
});
window.REBELMOUSE_LOWEST_TASKS_QUEUE.push(function(){
function fbvideoID(frame) { var myRegexp = /2F(d+)%/g; var match = myRegexp.exec(frame); return match[1]; } var fbIframe = document.querySelector('iframe[src^="https://www.facebook.com/plugins/video.php?"]'); if (fbIframe) {fvVidID = fbvideoID(fbIframe.getAttribute('src')); if (fvVidID) { fbIframe.insertAdjacentHTML("beforebegin", '
'); // fbIframe.parentNode.removeChild(fbIframe); } } var videoId = "promoted-video"; var oldFacebookVideo = document.getElementById(videoId); if (!oldFacebookVideo) { return }; var facebookVideoPost = oldFacebookVideo.closest(".widget"); if (!facebookVideoPost) { return };
var facebookVideo = facebookVideoPost.querySelector("#" + videoId); facebookVideo.classList.add("fb-video"); var firstPost = document.querySelector(".widget.post-partial");
function onScriptLoad() { FB.init({ appId: window.REBELMOUSE_BOOTSTRAP_DATA.fbId, version: window.REBELMOUSE_BOOTSTRAP_DATA.fbAppVersion, status: true, cookie: true, }); FB.XFBML.parse(); if(fbIframe){ fbIframe.parentNode.removeChild(fbIframe); } }
function loadFacebookScript() { var existingScript = document.querySelector('script[src="https://connect.facebook.net/en_US/sdk.js"'); if (!existingScript) { var script = document.createElement("script"); script.src = "https://connect.facebook.net/en_US/sdk.js"; document.head.appendChild(script); script.addEventListener("load", onScriptLoad); } }
function intersectorCallback(video_player) { var booted = false; var totalSeconds = 0; var interval = null;
function impressionCounter() { totalSeconds++; console.log("I've been watching for " + totalSeconds + " seconds"); } return function intersector(entries) { var entry = entries[0]; if (entry.isIntersecting) { if (!booted) { booted = true; video_player.mute(); video_player.play(); } interval = setInterval(impressionCounter, 1000); } else { if (interval) { console.log("I've stopped watching at " + totalSeconds + " seconds"); clearInterval(interval); interval = null; } } }; }
function trackVideo(video_player) { var observer = new IntersectionObserver(intersectorCallback(video_player), {}); observer.observe(facebookVideo); }
function onFacebookElementLoaded(msg) { if (msg.type === "video" && msg.id === videoId) { trackVideo(msg.instance); } }
function onFacebookReady() { FB.Event.subscribe("xfbml.ready", onFacebookElementLoaded); if (window.oldFacebookWaiter) window.oldFacebookWaiter(); }
if ("FB" in window) { onFacebookReady(); } else { window.oldFacebookWaiter = window.fbAsyncInit; window.fbAsyncInit = onFacebookReady; loadFacebookScript(); }
});