Over the past decade, activists have been fighting for the U.S. to raise the federal minimum wage to $15 an hour. The $15 threshold, which is more than double the federal minimum wage of $7.25, is seen by many as a "living wage."
Some states have higher minimum wages than the $7.25 standard, with California being the top at $14. However, 21 still linger in the $7.25 zone.
Given such paltry wages, it's no wonder why the U.S. is currently having a "labor shortage." Maybe it'd be more appropriately labeled a wage shortage?
---
A dramatic new report from Dean Baker, the founder of the Center for Economic and Policy Research, shows that if the federal minimum wage had kept up with U.S. productivity, it'd be at a staggering $26 an hour.
Baker is an economist who received his B.A. from Swarthmore College and his Ph.D. in Economics from the University of Michigan. His work has appeared in the Atlantic Monthly, the Washington Post, London Financial Times.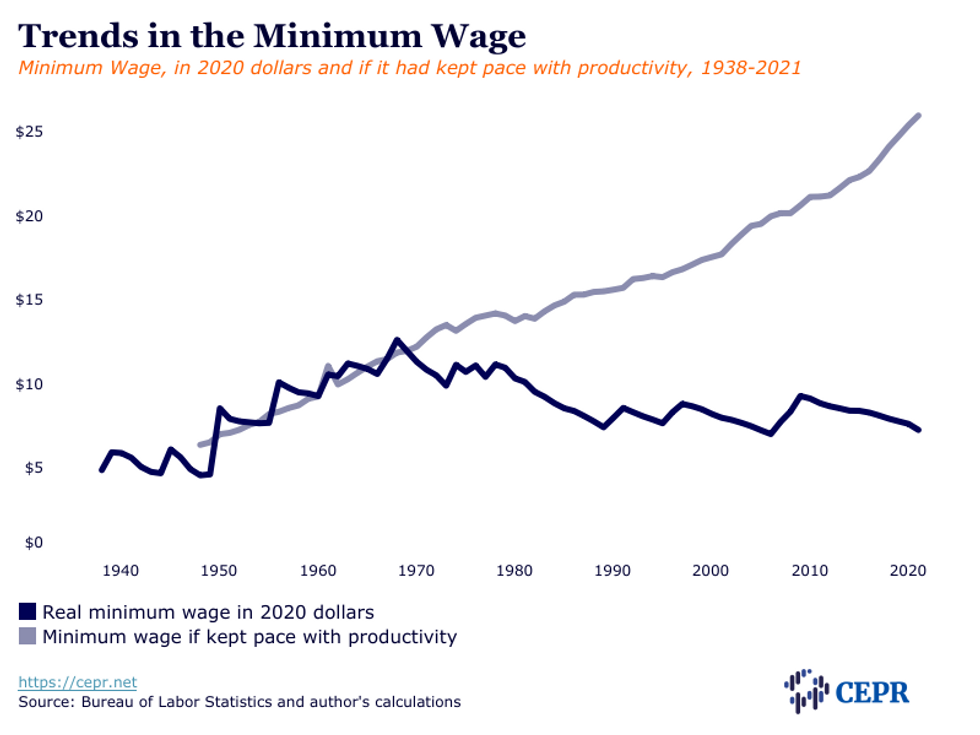 via Center for Economic and Policy Research
The federal minimum wage was first established in 1938 and Congress repeatedly raised the amount to correspond with U.S. productivity. In 1968 it was the equivalent of $12 in today's dollars. However, since 1968, U.S. productivity has dramatically increased, but the minimum wage has remained relatively stagnant.
"Furthermore, a minimum wage that grew in step with the rapid rises in productivity in these decades did not lead to mass unemployment," Baker wrote. "The year-round average for the unemployment rate in 1968 was 3.6 percent, a lower average than for any year in the last half-century."
If Congress had kept the minimum wage to match productivity we'd live in a much different world.
"Think of what the country would look like if the lowest paying jobs, think of dishwashers or custodians, paid $26 an hour," Baker speculates. "That would mean someone who worked a 2000 hour year would have an annual income of $52,000. This income would put a single mother with two kids at well over twice the poverty level."
However, Baker argues that such a dramatic, overnight shift would result in an economic disaster because we've "restructured the economy in ways that ensure a disproportionate share of income goes to those at the top."
Baker cites several examples of how the economy has been restructured, including "government-granted patent and copyright monopolies" that have inflated the cost of drugs, medical equipment, and software which would "all be relatively cheap in a free market."
Baker says that CEOs are vastly overpaid because "the corporate boards that most immediately determine CEO pay are largely selected by the CEO and other top management." So a lot of the company's money is wasted in CEO compensation when it could be spread amongst the rest of the employees.
He also believes that the financial sector benefits people who make "little or no contribution to the productive economy." Specifically, he says that the banking industry charges people tens of billions in fees when we could just as easily have digital bank accounts with the Fed.
Baker thinks that we can get back to a country where wages match productivity and the changes we'd need to make to get there are worthwhile.
"It would be a great story if we could reestablish the link between the minimum wage and productivity and make up the ground lost over the last half-century," Baker concludes. "But we have to make many other changes in the economy to make this possible. These changes are well worth making."