Marshall Mathers, also known as Eminem, recently made a surprising appearance at the opening of his brand new restaurant Mom's Spaghetti.
The 47-year-old rapper is famous for being one of the most reclusive musicians in the world, in the sense that he prefers to stay away from the spotlight most of the time.
However, Eminem felt like he should be there for the restaurant's first few meals and even surprised fans by handing them their food and posing for photos.
WHERE IS IT LOCATED?
It has been reported that the restaurant is located in Detroit, the artist's hometown, and is the result of a partnership with a local restaurant group, which started as a pop-up shop back in 2017.
[Mom's Spaghetti] even delivered food to frontline hospital workers during the COVID-19 pandemic.
THE INSPIRATION BEHIND IT
The name, Mom's Spaghetti, was inspired by the lyrics in Eminem's Academy Award-winning song, "Lose Yourself," which was specially written for his 2002 film, "8 Mile."
In the track, Eminem raps, "His palms are sweaty, knees weak, arms are heavy, there's vomit on his sweater already, mom's spaghetti."
The film is partially inspired by the rapper's real-life story, in the sense that the main character, B-Rabbit, goes through similar experiences as Eminem did while living in Detroit.
Following the news of the grand opening, several fans camped out for the whole day outside the restaurant hoping to be the first ones in line, but the first 10 got more than just their food.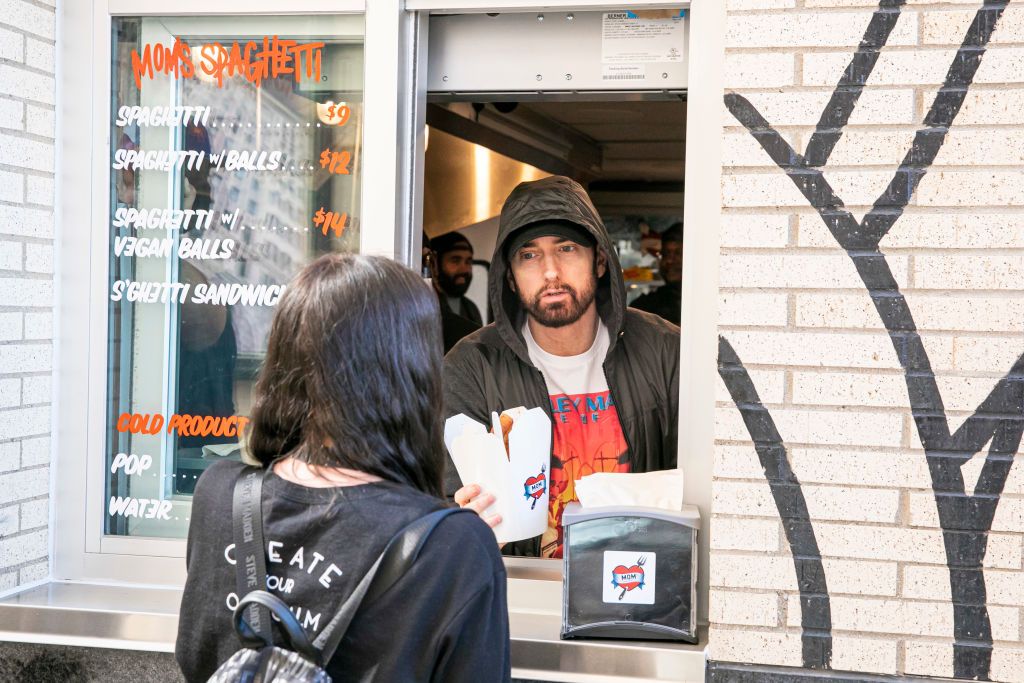 THE SURPRISE OF THEIR LIFE
When they walked up to the window to get their meal, Eminem popped up and handed them the food containers, much to their surprise. However, the rapper later left the restaurant with his team.
According to Eminem's manager, Paul Rosenberg, the reception has been "overwhelmingly positive" even though the menu is quite simple, offering just spaghetti (with or without meatballs) and spaghetti sandwiches.
Curt Catallo, the co-owner of Union Joints restaurant group, is quite proud of the sauce they managed to create just for Mom's Spaghetti. He said:
"We're proud of the fact that we created a scratch sauce that tastes like it's straight from the jar, and wok-firing the noodles gives it that leftover pasta snap."
It has been reported that, as a pop-up shop, Mom's Spaghetti has made appearances in several of Eminem's shows and even delivered food to front-line hospital workers during the COVID-19 pandemic.