With words meant for the altar, a broken man expressed his love for the woman who was meant to be walking towards him in a white dress.
A man who was soon to be married, Ryan Dixon read his wedding vows at his teenage sweetheart Kate Wignall's funeral. He and his fiancée were just a fortnight away from tying the knot before the tragedy hit.
Reciting his unheard vows, Dixon said it had been a privilege to have had her in his life. The 25-year-old expressed his gratitude for all the life they had lived together.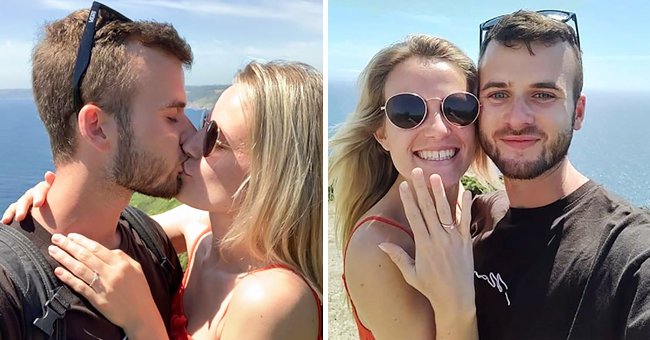 The grieving fiancé also stated how lucky he felt to have been loved by someone like her. Dixon exhibited his everlasting affection for her, saying:
"You have already given me the world, Kate. I will always love you and my heart will always belong to you."
Outside of his vows, the 25-year-old said he felt comforted by the idea that the last thing she most likely remembered before her death was planning their wedding. This is because it made her ecstatic, Dixon stated.
The grieving groom proposed to Wignall, who was also 25 years old, in May 2020. About a month after this, she was diagnosed with stage four melanoma.
The doctors predicted that she only had one more year to live, so the two decided to get married as fast as possible. After a scare that left Dixon's fiancée critically ill, they moved the wedding even closer.
Unfortunately, Wignall didn't make it to the aisle, passing away on April 14, 2021. Following the funeral, the almost-husband and Wignall's family traveled to where he proposed and scattered her ashes.
Stories with a beautiful mixture of love and death are not uncommon. This is especially true when it comes to the case of 96-year-old Wanda Wold and her husband, 94-year-old James "Jim" Wold.
The two passed away within a few hours of one another. Dan Engstler, their grandson, took to Facebook to honor their eternal affection for each other.
He posted a touching black-and-white photograph of Wanda and Jim sitting on opposite chairs. The two were giving one another a tiny kiss.
In his post, Engstler revealed that the loving couple had been married for 73 years before they passed. Speaking about the nature of his grandparent's death, he expressed:
"God was up to something today, calling them both to heaven 15 hours apart. Rest In Peace Grandma & Grandpa! ❤️"
Wanda passed first while Jim followed at the Concord Care Center in Garner, Iowa, where they shared a room. Although these couples are years apart in age, the love they hold or held for their partners has no bounds.