A Homecoming Queen has given up her most precious crown to another nominee who recently lost her mom. Talk about being truly beautiful inside and out! Nyla Covington, a High School Senior, was voted the Homecoming Queen by the students of Mississippi's Forrest County Agricultural High School and was crowned as the most beautiful woman that day. But to everyone's surprise, she gave her crown to Britanny Walters, one of the competitors.
Britanny made a promise to her mom who passed on recently that she will be attending her Homecoming together with her father. Her mother used to be present at all events in school to support her, except for this one because she succumbed to Cancer.  Her mother, AJ Walters, used to be the school's administrator and was well-loved by everyone.
Nyla said that, "It was really just for her, to bring up her day a little bit, and she'd rather have her mom than a crown… but the point was, I was telling her that she was her mom's queen and I was just letting her know that she was loved by many and especially me." She asked for the school officials' permission and went on to give up the crown. It was a heartwarming scene for everyone to watch. It is not every day that you see someone giving up something so dear to her as an extension of love to someone who needs it the most.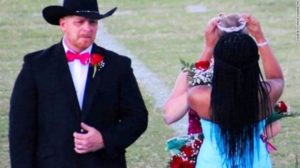 It was a surreal moment for Britanny when Nyla slowly walked towards her and her father across the field. Britanny felt so much love from Nyla and other people. "I just felt so like so much love from her, and I just felt so much love for her and the whole school. As soon as I got off the field, I just got hundreds of hugs from every single person in the stands." Everyone was in tears that day.
If there was someone who was extremely proud of this moment, it was Forrest County AHS School's principal Will Wheat. He was proud of what his students have become. Their choices represent the school. This selfless act will certainly, be one of the milestones Forest County High School will be known many, many years from now. This story did not simply end here. During the wake of Brittany's mom, a lot of people from the school came. This only showed that AJ Walters made a great impact to a lot of lives. This, somehow helped him deal with the grief they are experiencing. The outpouring of support not only during the Homecoming but also in the difficult season the Walters are receiving showed how beautiful the hearts are of the people in their school/community. Stories like this serve as an inspiration to everyone in a day and age when self-preservation is a key for survival. It's a great beauty to see people carrying one another's burdens. For we are indeed, better together!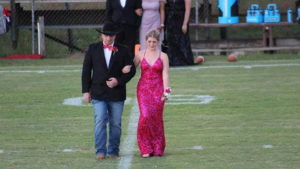 "Your beauty should not come from outward adornment, such as braided hair and the wearing of gold jewelry and fine clothes. Instead, it should be that of your inner self, the unfading beauty of a gentle and quiet spirit, which is of great worth in God's sight." 1 Peter 3:4