The '90s cult classic She's All That has been reimagined with a major Gen Z twist.
He's All That follows social media influencer Padgett (Addison Rae), who is unfortunately humiliated on-camera after finding out that her boyfriend has been cheating on her. With her follower count plummeting and the loss of sponsors looming, Padgett is on a mission to "makeover" one guy at her high school into prom king material.
Article continues below advertisement
But, Padgett's so-called friend is not going to let her off that easily, not while Padgett's "it-girl" crown is up for grabs. Alden (Madison Pettis) makes the deal a little sweeter by not only choosing the guy Padgett must remake in her trendy image but also claims that if she loses, she will be a loser for life.
Cue Cameron (Tanner Buchanan), the scruffy photography student who dislikes anything remotely on-trend.
He's All That marks real-life influencer Addison Rae's first-ever acting gig. And after watching the reboot of the Netflix film, fans may be surprised to see a few people from Addison's inner circle in the movie. Like, does Addison's ex-boyfriend Bryce Hall make a cameo in the movie?
Article continues below advertisement
Is Bryce Hall in 'He's All That'?
Yes! Addison's ex-boyfriend Bryce makes a small appearance in her debut film. During one scene, Padgett, Cameron, and the rest of the California-based high school class attend a 1920s themed party. Bryce plays the role of one of Padgett's ex-boyfriend Jordan's friends.
Jordan, an influencer and pop singer, is chatting with his boys about his breakup.
Article continues below advertisement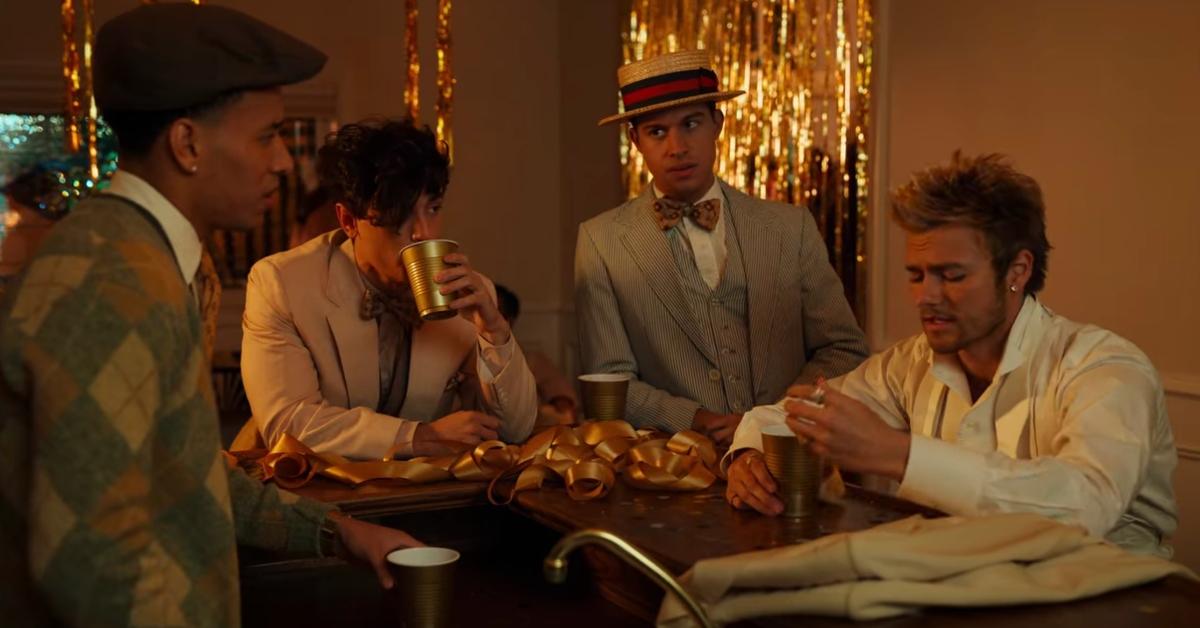 Though Addison and Bryce are no longer together, the former couple was dating in 2020 when the movie was filmed. Also, the former Sway House member was seen on-set alongside Addison, so we're not surprised that Bryce makes a small cameo in the movie.
"The only reason I'll be watching He's All That tonight: @brycehall," tweeted one fan. Another wrote: "Guysssss … did any one of [you] see Bryce in He's All That???"
Article continues below advertisement
Though Bryce does make a small appearance in the movie, he is not credited on his IMDB page. Additionally, neither Addison nor Bryce have commented on the cameo. The on-again, off-again couple split in 2021; the TikTok star declared in April that she was "single" on Twitter.
Another individual in Addison's everyday life who made an appearance in the Netflix movie is Kourtney Kardashian.
Article continues below advertisement
Kourtney Kardashian plays Padgett's PR manager in 'He's All That.'
While casting for the Netflix film, Addison asked her BFF Kourtney if she'd like to play the role of Padgett's PR manager in He's All That.
"It was incredible," Addison told E! News' Daily Pop about working with the reality star on-set. "Kourtney is amazing. She really did her part and studying her lines. She was nervous too, and so was I, but we worked together, read our lines together as much as we could, and she went in there and did her thing and I'm so proud of her."
You can now stream He's All That on Netflix.