3 mins read
Jane Fonda's outfit from the Golden Globes attracted the attention of many
The name Jane Fonda speaks of success and fame probably more than any other female name in the film industry. Her career spans six decades, a time during which she gave her fans many memorable roles.
Some may say that being the daughter of the legendary actor Henry Fonda, Jane Fonda didn't have to work hard for what she has, but that is certainly not the case with the now 83-year-old actress.
She was born in New York city on December 21, 1937, and her mother committed suicide when Fonda was only 12 years old. This was something that affected her deeply. She and her dad were close, but he wasn't a man of many words. Speaking of him, Fonda told Oprah, "My father didn't verbalize much, but I knew he had regrets, and I don't want to.
"I want to have people around me who really love me, whom I really love. And I know that you can't collect those chips unless you've earned them during your life. What that said to me was that I had one act left to make sure I didn't get to the end with regrets.
"What would I regret the most? My big regret would be if I'd never had an intimate relationship. But if you never grew up with intimacy, if you were never with parents who really loved each other, and you never saw that and absorbed it as a kid, it's hard to know how to do it."
Known not only for her films and the great number of awards she has received, among which many nominations and two Oscars, for her 1972 movie Klute and the 1979 movie Coming Home, but also for her charity work and her courage to speak her mind, Fonda is loved by many. However, during one occasion, she made people angry after she posed for photos next to an anti-aircraft gun in North Vietnam during the height of the anti-Vietnam War protests.
This year, during the Golden Globes Award Ceremony, Fonda received the Cecil B. DeMille Award given annually to an "individual who has made an incredible impact on the world of entertainment." Among those who were honored with this reward are stars like Tom Hanks, Oprah Winfrey, Meryl Streep and Lucille Ball.
According to Page Six, Fonda said she knew her father would be proud of her. In her speech, she addressed the issue about the lack of diversity inside of the Hollywood Foreign Press Association, which votes on the awards.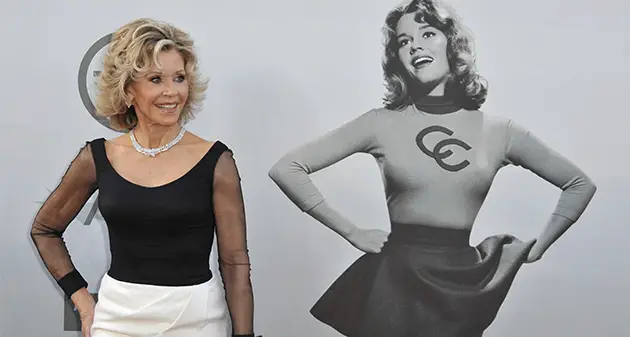 Shutterstock
Another thing that attracted the attention of the wide public was Fonda's choice of outfit. Some years ago, she told Ellen DeGeneres that she would never again buy a new piece of clothing, and she stood by her words. During the recent Golden Globe Ceremony, she was dressed in a white suit that she wore before.
During the 2020 Oscar's, Fonda was dressed in the same outfit as at the International Cannes Film Festival in 2014.
What we can all agree on is that Fonda looked absolutely stunning and classy.