Congratulations are in order for the Johnson, as Magic Johnson clocked 62. Check out how his famous son, EJ showcased his slimmer figure while rocking a plunging red suit for his father's birthday celebration.
NBA legend Magic Johnson and his adorable wife of many years, Cookie Johnson, have been an inspiration for many owing to the intricacies of their love story.
Throughout the years, they have witnessed a few ups and downs, had kids, son, EJ, and daughter, Elisa, as well as enjoyed an overwhelming number of successes in every area of their lives.
Recently, the former athlete celebrated his 62nd birthday, and his family and loved ones were around to express their love. The Johnsons hosted a homely birthday bash for their guests.
On the same day, Magic wanted his fans to have a glimpse at how the whole thing went down. So he shared a six-slide post featuring the invitees.
The first image showed his family, and fans could not help but notice the famous fashion icon, a reality TV star, and a confident man, EJ rocking a stunning attire.
Mini-Magic expressed himself in a mild yet fierce red-colored three-piece outfit — he tucked a button-down silk shirt in fitted pants and garnished it with a gold button encrusted blazer.
EJ added a mishmash of choker necklace and another piece of jewelry that ran from his neck down to his belly button. The reality TV star worked some poses by placing a thumb in his pocket, planting an infectious smile across his boldface, and showing off his flawless Caesar cut.
Cookie also added similar snaps to her Instagram page in honor of her husband's big day. It showed Magic rocking a stylish blue suit and holding a candle-lit cake.
He was surrounded by his wife, who was decked in a U-neckline-shaped monochrome dress. She told fans that it was an incredible evening and that she was grateful for spending the moment in the company of her family and friends.
MAGIC JOHNSON'S REAL-LIFE MAGIC
Magic's wife, Cookie, is an author, entrepreneur, and fashion-conscious individual responsible for influencing their son's love for fashion and luxury brands.
Above all that, she is a woman who appreciates her husband and is never scared to sing his praises publicly. A few hours ago, a special birthday post was shared by Magic's leading woman.
This time, it was a three-slide shot with two pictures displaying the couple's time during their luxurious getaways. The caption read:
"… The Lord  truly blessed all of us by putting you on this Earth to be one of the greatest husband, father, and Pop Pop and a great individual making a difference…"
MORE ABOUT EJ JOHNSON
EJ is the couple's only biological child; his sister, Elisa, was adopted a few years after his birth. However, Magic has another child, Andre, from a previous relationship, bringing his kids to a total of three.
The reality TV star is one of the most talked-about Johnsons due to his ability to make fashion statements, party with top celebrities, and his undiluted confidence in himself.
EJ is proudly gay, which he establishes via interviews and online posts. In addition, he is content with his looks and does not intend to change to a transgender person.
But, he has worked on his weight, trimming down an amazing amount through surgery and a healthy diet, which has helped raise his confidence level.
Throughout the years, the young Johnson has received overwhelming support from his audience, including family and friends. However, this was not always the case as his dad did not accept his sexuality at first.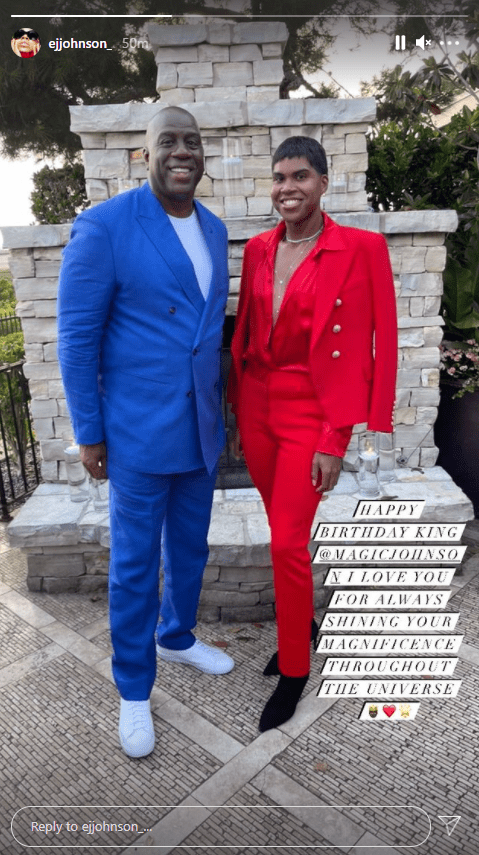 After EJ opened up about his sexuality to his family, Cookie did not have any problem loving her son regardless, but it took Magic some time.
Ultimately, he decided to support his son and has gone to enlighten other parents on the need to show consistent love for their offspring regardless.