Reality star Lauryn Shannon made fans swoon after sharing a recent image of her two kids. Shannon is a married woman who takes care of her babies alone while her spouse lives far away.
Mama June's Daughter Lauryn "Pumpkin" Shannon melted fans' hearts with pictures of toddler daughter Ella and newborn baby Bentley.
The sweet photo showed big sister Ella heartwarmingly holding her little brother while seated as she grinned. Bentley, on the other hand, appeared to be focused somewhere else with his adorable self.
He wore a blue romper and had one hand close to his cheek, appearing in deep thoughts. His sister seemed to hold on tight to him in a peach top.
"Mamas babies," their mom captioned the post while adding a heart and pleading face emojis. Shannon welcomed baby Bentley last month.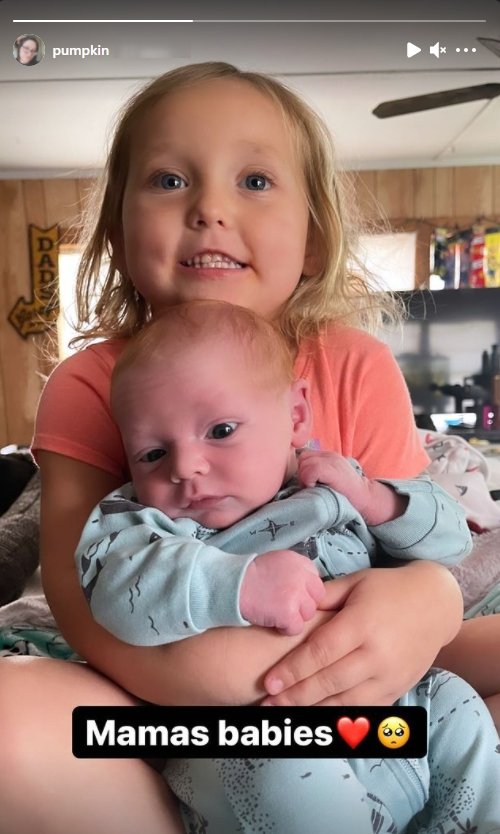 She took to Instagram to reveal the happy news with her fans. Bentley is her second child, whom she shares with husband Joshua Efird, including the couple's first-born Ella.
"After being admitted into the hospital last night at 2-3 centimeters with heavy contractions, our baby boy has finally made his debut, she wrote at the time. "Everyone meet Bentley Jameson Efird weighing 7 pounds 10 ounces.
The 21-year-old revealed the sex of the baby in June in an exclusive clip from an episode of WE tv's "Mama June: Road to Redemption."
She shared the news with a thoughtful gesture to her mom, a sweet homemade cake. However, she needed a little help to break the exciting news, and her three-year-old daughter Ella stepped in.
"You're getting cake. Period!" Ella adorably told her unsuspecting grandmother, who initially did not want cake when she arrived for the family moment.
She was curious as to why the little one was eager for her to have the cake and asked, "Why is it so special? To which her daughter replied, "Because it has all the sprinkles, and we made it!"
Shannon then turned to the cameras and said she thinks "everybody will be shocked" by the reveal. She then held the pan as her mother and child cut into the cake with a spatula.
"Why is the cake blue?" Shannon's younger sister Alana Thompson, 15, asked. Her sister then prompted Ella to state why it was blue colored, who then said, "Because we made it blue … for baby brother!"
Everyone excitedly reacted to the gender reveal by smiling and hugging at the news. "Hm, wow! A little boy! The proud father told the cameras with a laugh.
Shannon revealed she was pregnant exclusively with People in April. "We weren't really expecting. We weren't also trying either, but we weren't preventing," she said at the time, adding:
"Everybody knows Ella's three now, so it's taken me that long to get pregnant. I was on birth control for a while, and then I got off birth control for a year and a half. And then I found out that I was pregnant."
Shannon and Efird welcomed their first-born Ella Grace back on December 8, 2017. She spoke to Us Weekly in an exclusive interview at the time about her life as a new mom.
She revealed June was actually in the room with her during the labor, along with Efird and his mother. Shannon was in labor for over 24 hours and admitted the process was not as bad as she had expected.
"The hardest thing about having a baby was having to push. I honestly didn't know that I could love a little person so much," said then 18-year-old Shannon.
The reality star added she wants her little girl to grow up and not be easily influenced by others in making her own decisions and doing what her heart wants her to do. According to Shannon, her infant daughter was a sweetheart who hardly cried and slept too much.
As for how the arrival of their new brood affected her relationship with then-boyfriend Efird, Shannon shared it made it even better, adding they had become closer than ever and helped each other out more like a team.
At the time, she revealed they plan on having four kids together in total. After the couple announced they were expecting a second child, things turned sour between them.
Shannon was juggling mending her strained relationship with her mom, raising her teenage sister and her own daughter while also experiencing difficulties within her marriage.
She and Efird found themselves publicly having disagreements about June's struggle with addiction. Shannon said that was the tipping point for them.
June was bad enough at that point in her life, but her daughter still wanted to communicate and wanted to hang on to something.
However, Efird was not having it and told his wife that she needed to let it go because it was draining her, but Shannon was not listening.
She explained that his stance came from a good place and that her spouse did not want to see her get hurt, but he was supportive.
The lovebirds got married back in 2018 in Las Vegas, with a source confirming the news to People at the time. The announcement came just months after the arrival of their first child.
While they are now doting parents of two, they live separately. Efird lives and works in South Carolina, while Shannon and their kids live in Georgia.