TikTok did it again, bringing one of the most genuine real-life reactions to the screens of millions of other internet users. See how this dad of four showcased a hilarious reaction to his wife's pregnancy news.
These days, many find their voices through the support and attention they get online, and a lot has changed for so many people after scoring publicity on social media platforms.
A lovely couple topped the headlines after their video went viral. The video gained attention from people across the world because of how genuine it looked — even though some internet users share real moments, they sometimes act it out to garner more likes and comments.
However, this couple's display did not look like acting. His wife positioned the camera in a strategic place, and his reaction did not seem rehearsed.
WHAT EXACTLY WENT DOWN?
A female TikTok user who already shares four kids with her husband wanted to announce that they would soon be parents for the fifth time and boldly captioned the video:
"When you thought your 4th child was your LAST."
The unassuming pregnant woman, dressed in a black blouse and blue jeans, turned her back to the camera after hiding a pregnancy test strip on their bed, with a toy on top of it.
When the man discovered the pregnancy result, his gaze moved around the room in a bid to find a hidden camera, thinking it was a prank.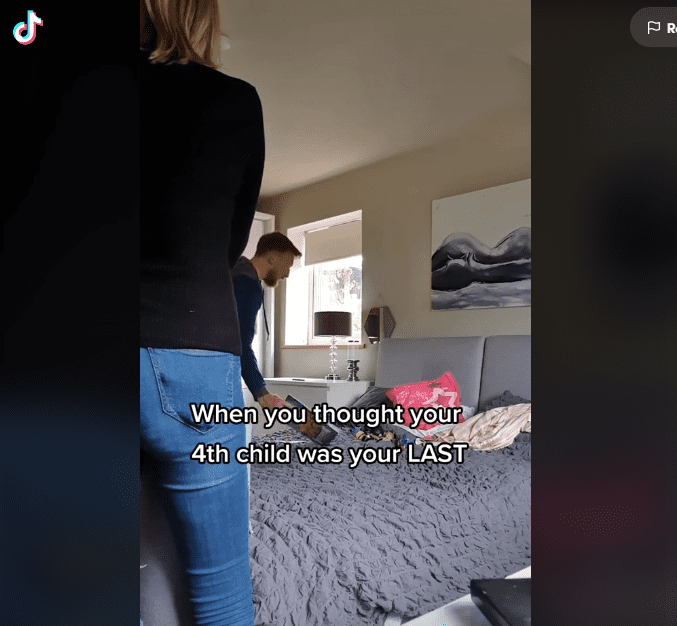 His wife assured him that it was genuine, but it did not stop him from asking if it was real for a second time. The expectant mother laughed all through as her husband dropped a long list of inquiries.
He walked with his hands buried in his face and asked:
"Whose is it? Where are we gonna put it?"

After a brief second, he hugged his wife and assured her of his love by adding, "I love you with all my heart." A title on the post suggested that the man eventually calmed down and was overjoyed about the news. This clip melted the hearts of many.
HOW DID PEOPLE REACT?
Commenters could relate with the entire situation, and parents thought that it was a rather hilarious reaction that most men would display.

Children are a bundle of joy, with their tiny hands and adorably clear eyes. But they also cry a lot, sometimes finding it difficult to express themselves except through whining.
Still, they are loved by many for their cuteness, crankiness, and mostly messy ways. But no matter how many a parent already has, the joy that comes with having a newborn is overwhelming and hard to describe.