Michelle Pfeiffer's fans flooded her comment section with love and compliments on a rare throwback picture of her two children, Claudia and John, on Instagram this week. 
"Scarface" actress Michelle Pfeiffer took to Instagram this week to celebrate her two children, Claudia Rose Pfeiffer and John Henry Kelley II, with a belated post for National Daughter and Son Day.
The proud mother shared a gorgeous black and white throwback photo from when her children were young. In the photo, Pfeiffer stands over her young children while she holds them from behind.
Pfeiffer and her son both smile eagerly at the camera while older sister Claudia giggles into her brother's shoulder. The pose makes sense as Pfeiffer revealed they are best friends and inseparable.
Alongside the candid family snap, Pfeiffer wrote a short tribute for her children, whom she called her little rascals. The "Dangerous Minds" actress acknowledged her late post and wrote:
"I love these two rascals. From the moment they were born they gave me and continue to give my life a depth of meaning beyond measure."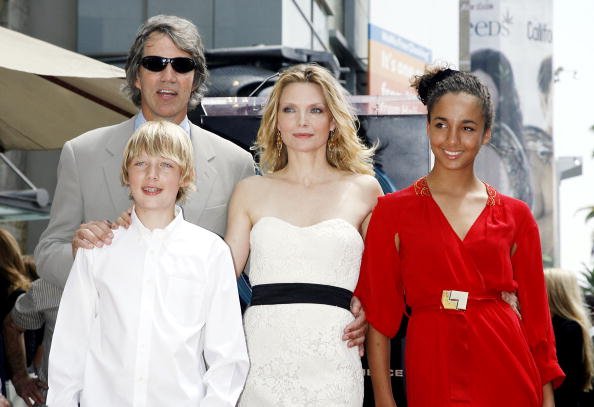 Pfeiffer's fans shared their love for the actress and her children in the comment section. Many posted strings of heart emojis or descriptive words such as beautiful, charming, and sweet.
A few others wrote slightly more wordy comments. One fan who admired Pfeiffer's commitment to keeping her children's privacy, expressed joy seeing photos of her two now that they are grown up.
The couple had only been dating for two months when little Claudia walked into their lives.
Another remarked that the family throwback was a lovely picture, while one fan thought Pfeiffer's tribute for her two now-grown-up children was very sweet.
Pfeiffer rarely shares photos of her two children. However, in June, she graced her fans with a gorgeous selfie of herself and her 28-year-old, captioning the photo:
"Out on the town with my girl ❤️"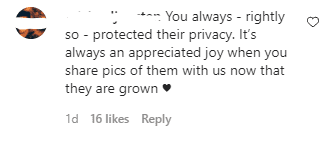 Pfeiffer shares her children with her longtime husband, David Kelley. However, she had already registered for private adoption before meeting and falling in love with her husband.
The couple had only been dating for two months when little Claudia walked into their lives. Everything worked out and Claudia was even christened on their wedding day in 1993. A year later, the pair welcomed their son John, who is named after his grandfather.
Neither Claudia nor her brother have followed in their mother's footsteps, and seem to stay out of the public eye.  As for Pfeiffer she regularly updates her fans on the happenings of her life. Recently, she promoted her husband's newest project, "Nine Perfect Strangers," on her Instagram feed.