3 mins read
Mom of 11 Children Refuses to Use Contraceptives, Claims She Wants 6 More
A woman who has 11 children recently shared that most of them were "planned" and added that she is open to having more. She chooses to avoid contraceptives because of a health condition. 
This month, a 36-year-old mother of 11 shared her story and explained how she grew her brood over the years. Veronica Merritt, who lives in New York, has received many online opinions about her lifestyle choices.
People were not thrilled to hear that she is open to having more kids—six to be exact. Her first child, Victoria, is now 21, while the youngest of them is a year old.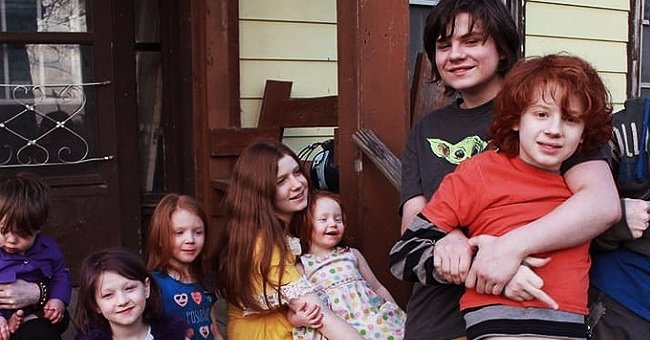 NEGATIVE COMMENTS 
Merritt shared that she gets "negative comments" all the time, and people often ask her insensitive questions. She explained: "I get asked, 'do they all have the same dad? Do you own a TV?'"
Merritt bought a house with her husband in 2020. They spent $20k, and the nine-bedroom property fits her kids, Andrew, 16, Adam, 15, Mara, 13, Dash, 12, Darla, 10, Marvelous, 8, Martalya, 6, Amelia, 4, Delilah, 3, and Donovan, 1.
BOUGHT A HOUSE VIA AUCTION 
The busy mother stated that it wasn't necessary to purchase "a $200k home." She advised people to save up some money and look out for a "fixer-up and investment property."
Many users are understanding and offer Merritt support online, but some people are outraged by her large family. 
Merritt's two eldest kids were products of her first marriage. The rest of the brood is all from her second husband. He lives in the basement so that there is more space inside of the home for their family.
AVOIDS CONTRACEPTION 
The mother has struggled with her health over the years due to kidney disease. This is also the reason she avoids contraception.
Merritt said:
"Some of the children were planned. But I can't take hormonal birth control because my illness means I am prone to blood clots."
OPEN TO MORE KIDS 
After already spending roughly eight-and-a-half years pregnant, this mother is open to more kids. Many wonder how she maintains such a big family, but Merritt shared that they "don't have many expenses."
The couple relies on food assistance to feed their brood but manages everything else quite well. The family drives around in an old school bus that Merritt bought on auction for $3k.
ONLINE INTERACTION 
On her active social media pages, the proud mother answers questions that netizens have for her. Many users are understanding and offer Merritt support online, but some people are outraged by her large family.
One netizen told her to "get off TikTok" because she has an "absolutely unnecessary amount of children" to take care of. Others called her a weirdo and claimed that she was "literally unfit to be raising 11 children."
MOTHERHOOD IS HER CALLING 
Despite these cruel comments, Merritt enjoys sharing her life online. Her Instagram page, @thismadmama, is regularly updated and chronicles all of the fun things she gets up to with her family.
Merritt believes motherhood is her calling. She said: "This was always how it was meant to be." The mother implores various clever techniques to keep track of her kids, and while she does implement a few rules, she called herself a "really chill" mother.