A wildfire evacuation led a man to eject his elderly dog from the car—He left her to fend for herself. Fortunately, a rescue team saw what happened and stepped in to help. 
This month, a Central Okanagan Search and Rescue (COSAR) team tended to homeowners in a British Columbian town when they witnessed an unbelievable turn of events.
The team initially struggled to communicate with a La Casa Resort resident to notify him about the evacuation due to the dangerous wildfires.
THREW THE DOG OUT
After some back-and-forth, they were assisted by a telephonic translator. Soon after, the man left the area in his car and took his dog with him. However, he changed his mind quickly.
The team shared on Facebook:
"They noticed the man leaving in his vehicle, only to stop 100 yards up the road and throw an older dog from his vehicle before continuing out of the resort and south down Westside Road."
THE INCIDENT IS UNACCEPTABLE 
The team acted quickly and was able to catch the dog. They brought her back with them and noticed that she had no collar. They tried to calm the dog down and gave her some food, water, and a new moniker, Smokey.
Many were upset by the owner's actions and hoped the rescue team would take legal action.
COSAR search manager Duane Tresnich spoke about the incident and said: "I know these are incredibly stressful times, but what happened is unacceptable."
FINDING SMOKEY A NEW HOME
The Canadian province's recent increase in wildfires has created massive destruction in the area. In these difficult times, Smokey was lucky to be spotted by the rescue team.
A local veterinarian, Dr. Moshe Oz, has vowed to help the dog find a home. Tresnich shared: "Dr. Oz's been great during the evacuations … It's my understanding that after Dr. Oz checks Smokey over, a suitable home will be found."
THE DOG IS HAPPIER THAN EVER 
Dr. Oz, who works for the Rose Valley Veterinary Hospital, gave concerned viewers an update on Smokey. The dog looked better than before, and the veterinary hospital stated that she is "healthy, happy, and very loved."
They added:
"Thank you to everyone for the outpouring of support for our dear 'Smokey.' She is here to teach us all we need to support each other more than ever especially in this scary time."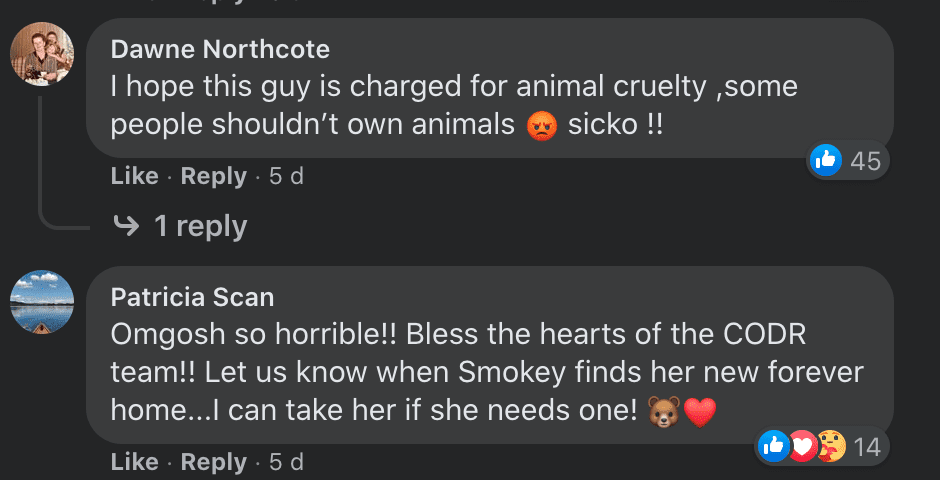 ONLINE REACTION
Commenters also thanked the vet and the rescue team for going the extra mile to look after Smokey, who has been called a "heart stealer." One user said: "Thank you for saving this sweet baby."
Many were upset by the owner's actions and hoped the rescue team would take legal action. Regardless, most netizens were simply elated by the news that the dog was doing well and escaped a situation that could have led to tragedy.