A businesswoman sobbed as she showed her fellow netizens the cruel email she received from one of her buyers. Her fellow internet-goers were fuming at the malice of the consumer's callous words. 
tlc Body shop owner and TikToker Carissa Collins tearfully shared a now-viral video of herself on the platform describing a distressing interaction she had with a customer during a difficult day.
After sending the buyer a complimentary gift, a lollipop, with her order, rather than appreciation or silence, the patron fired back with a blistering email, complaining about the thoughtful add-on.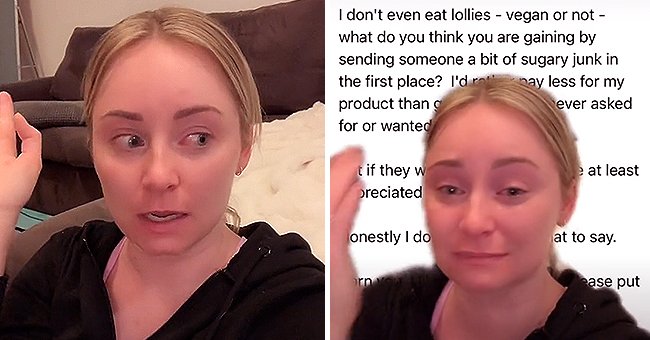 Part of the email, which the TikToker shared via a snapshot in her clip, stated that they do not eat these types of sweets, also writing that she may have been okay with the gesture if it were vegan. The customer penned:
"[Darn] you, I liked your products. Please put more thought into things like this in the future."
The angry consumer expressed they would not be purchasing any more products from Collins' business. They noted that this was because their confidence in the company had been harmed.

With a tear-stained face, the TikTok user expressed disbelief at her client's grievance over something as insignificant as a lollipop. Addressing the rude manner of how the purchaser wrote the email, Collins said:
"When did it become okay to speak to people like this?"
The TikToker stated that if someone wasn't particularly fond of the lollipop, they did not need to create an issue out of it. Instead, Collins advised that they not eat it.

There didn't appear to be one remark in the comment section criticizing the business owner.  All of the netizens appeared to support her unanimously while simultaneously denouncing the unimpressed customer.
She realized the restaurants' staff had written a birthday message in braille.
Responding to these compassionate comments, the TikTok user shared another video of her putting together a box of products inclusive of lollipops. In the clip's description, the entrepreneur thanked everyone for their kindness.
As there are demanding customers, so there are infinitely grateful ones. One such individual is a blind woman at a restaurant who was taken aback by the staff's extra care to make her birthday special.
Natalie Te Paa shared a TikTok video of restaurant workers surprising her with a sweet birthday message on her plate. Te Paa was stunned when she realized the restaurants' staff had written a birthday message in braille.

They did so with the use of melted chocolate. The video touched the hearts of a significant number of viewers, who wrote about how beautiful the gesture was.
Many in the comment section said they were crying over the deeply heartfelt sentiment. Unlike Collins, who cried due to another individual's unkindness, these remarks spoke of their tears of joy.