A TikTok chef has shared a hack for cooking eggs, which has quickly gone viral.
Jackie Hartlaub, who goes by the handle @lowcarbstateofmind, shared a way to make hard-boiled eggs without using water.
More than 9.6 million people have watched the clip in which Hartlaub reveals the genius move is to ditch the water in favour of an air fryer.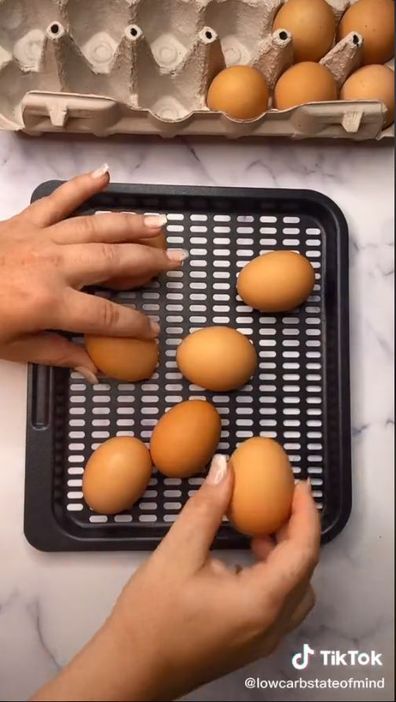 "This is such a good kitchen hack if you have an air fryer," Hartlaub explains as a voiceover in the video.
"I have not used a pot of boiling water to hard-boil my eggs in the longest time."
Taking just 15 minutes to cook at 135C, the healthy chef then leaves them in an "ice bath" for five minutes to make them "super easy to peel".
"I know there are a few different ways people like to peel these," Hartlaub says.
"I like to take a small spoon and use the back of it to crack it all the way around. I just find a spot I can get the spoon under the skin, and it'll just fall right off."
The hack was a hit with followers who attested to the trick.
"Just for anyone wondering, it 100% works. I did it this morning. Legit took me 20 minutes to complete it all. Saves so much time," one TikToker responded.
Another viewer also confirmed the trick, saying: "Just did this and will never make them any other way again!"
There were some sceptics though – with one viewer believing it was a prank.
"Why do I refuse to believe this? Thinking they will explode and this is a prank," one person commented.
"This sounds too good to be true… but everything I've tried of yours is gold, so I must believe!" another person wrote.