3 mins read
TikToker Claims American Airlines Lost Her 2 Cats, Says They'd Been in the Kennel for over 14 Hours
A TikTok user by the name of Ariel Dale recently experienced every pet owner's nightmare after the company she was flying with, American Airlines, lost her two cats.
Dale first took to the social media platform to let her followers know what had happened through a short clip in which she can be seen very upset and crying at John F. Kennedy International Airport.
According to her, the animals had been inside their kennel for 14 hours at that point, and the airline was not able to tell her where they were since the cats traveled on a different flight.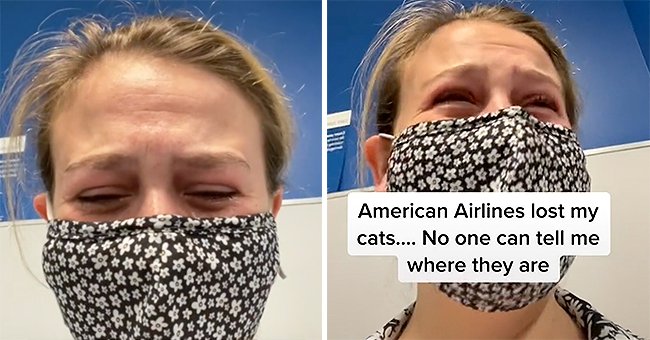 AN EMOTIONAL ROLLERCOASTER
Dale later uploaded 3 videos that explained what really happened and with all the details, starting off by saying that she was moving from Los Angeles to New York City.
Being an animal lover and knowing how nervous her cats are since they were rescues, Dale tried to find a company that allowed her to travel with them.
Unfortunately, no airline was allowing pets aboard their aircraft, but American Airlines did allow them to fly in cargo. It was a very difficult decision for her, but that was the only solution she was able to find.
Dale shared that the whole process was a nightmare from start to finish. First, they told her to drop the cats at the wrong location, which almost made her lose her own flight since the cats were on a separate plane.
BAD NEWS
Then, during her flight, she received a text from the company that her cats' flight had been delayed and then canceled. Dale was very stressed and was told that her cats' flight had been rebooked.
However, the new flight was also delayed, and when Dale landed, she was put in contact with an agent from American Airlines that reassured her that her cats were being "well taken care of."
The TikToker received an email saying that she should pick up her cats at terminal 4, but as it turned out, American Airlines gave her the wrong location again. She had to find her way to terminal 8 all by herself.
One of the cats had a very rough life before being adopted.
THE REUNION
When Dale got there, she asked for her cats, but the staff member told her they didn't have any cats. It was the last drop for Dale, who just got on her knees and started crying.
According to her, the man spent the next two hours contacting people to find the cats' whereabouts. Luckily, they were found and brought to her, safe and sound.
However, one of the cats had a very rough life before being adopted, so the whole process stressed him quite a bit, and he was hiding his head in his favorite blanket.
It all ended well, as Dale explained that they have settled in their new home and are both wandering around and back to their old selves. However, the story left her with a very negative impression of American Airlines.