If you haven't come across the Squid Game sensation yet, you're bound to spot it sometime soon. The Netflix survival series is taking the bingeing world by storm, influencing everything from our viewing to our fashion sense.
Don't worry, there aren't any spoilers here… except maybe this one. One of the challenges featured in the series involves a South Korean treat known as a dalgona cookie, or ppopgi. It's a honeycomb-style cookie with a shape printed in it, and it's a long-standing game in South Korea to try and neatly break off the edges without breaking the shape in the centre.
It's a delicious and fun game… if your life isn't hanging in the balance.
Well, the game and the treat both feature in Squid Game and it has people everywhere hooked.
That includes Tiktok sensation Bayashi (@bayashi.tiktok). His 11.4 million followers tune in to see him deep fry cheese (and other things), as well as to take on social media food trends — and sometimes to start them.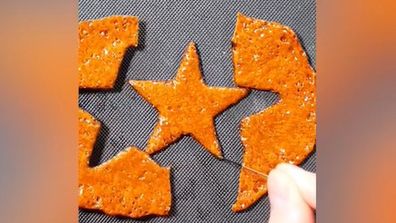 Right now he's not disappointing, having clocked up at least four videos where he either makes the dalgona cookie, takes on the Squid Game challenge, or both.
One of his videos alone has racked up over more than 105.6 million views. That's one showing him failing the challenge, which, in Squid Game, would have dire consequences.
The video we love, however, is currently sitting at 58.4 million views (and rising) and shows us the triumph of succeeding with the ppopgi! What a rush.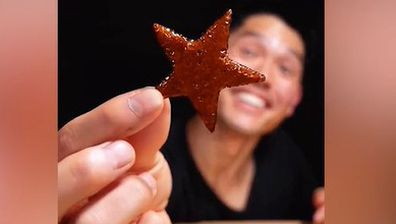 I can tell you, after watching the theatrics and the trick to getting it done, there is nothing I want more than to snap some honeycomb-style candy. Like, right now.
If you want to have a go at making the cookie, you'll need to caramelise 2 tablespoons of sugar over high heat and then add a pinch of bicarb soda (not baking powder), pour the frothing liquid onto a tray lined with baking paper and then, before it sets, press a cookie cutter into the top to make your shape of choice. Allow it to set and then get to snapping those edges off.
You don't need to be watching Squid Game to get into this game. In fact, it's a lot less stressful when you just crack the candy without any dire consequences.