Model Hannah Selleck recently dressed up in a comfy outfit alongside her boyfriend, Nic Roldan, on their getaway trip. The pair have a passion for horses and have similar careers.
Tom Selleck's daughter Hannah Selleck stunned in a slinky one-shoulder top with her smiling boyfriend, Nic Roldan. Roldan shared the image on his Instagram Story with the caption, "HIKING THE BUUU."
The couple beamed for a selfie with Selleck's arm wrapped around her love. She rocked her yellow top with matching leggings with an inch of her stomach in full display.
OUTING PICS
She paired the look with a black cap while holding her phone in the other hand. Roldan opted for a blue T-shirt and black sunglasses.
The lovebirds are on a getaway as the view of the ocean behind them is breathtaking. Per Selleck's Instagram, she is having fun in the beautiful mountain views on a mini-vacation in Aspen, Colorado.
She called the location her "happy place." Selleck shared a few snaps from their trip, including a solo one whereby she posed standing on a rock overlooking a beautiful lake, with pine trees and mountains rising behind her.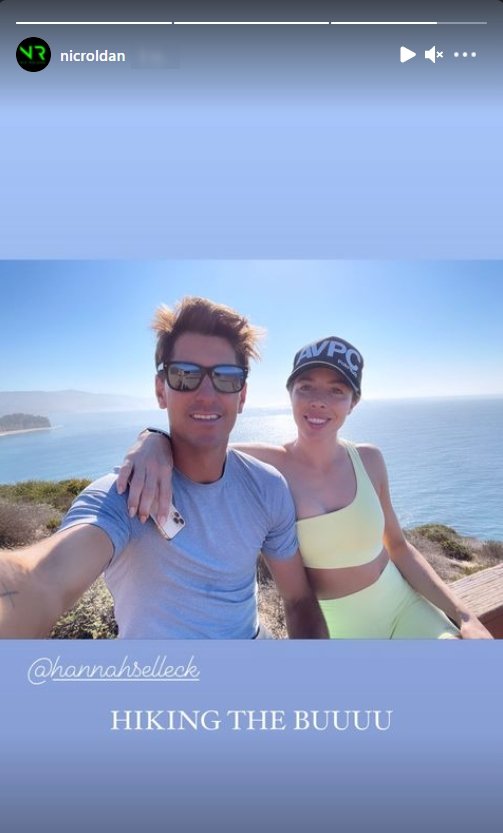 She shared another outdoorsy photo cozying up to her lover Roldan who took the selfie. Selleck had both her arms wrapped around his chest from behind while resting her chin on his shoulder.
The two have been dating since this past May. They have a lot in common, including their passion for horses. Selleck is a professional Equestrian.
EQUESTRIAN CAREER

The 32-year-old has gone to Wellington every year since 2013 to train at the highest level and compete at the Winter Equestrian Festival.

Being the only daughter of the "Blue Bloods" star and his second wife Jillie Mack, 63, she grew up understanding that passion is one of the most important drivers in pursuing any career.

She has taken that advice and ran with it by establishing herself as a successful showjumper and influential business owner in the equestrian community.

Selleck has been a competitive equestrian showjumper from the age of 14. However, her love for horses began a decade earlier, when she was only four years old.

Apart from her busy competition schedule, the California native also runs a boutique horse-breeding operation, Descanso Farm, near the family's 65-acre ranch in Ventura County.

"Riding is always my priority," she said back in July 2019 in an interview with Palm Beach Illustrated. Selleck has previously qualified for the grand pix level of competition and has bagged several international medals.

ME TIME

In her spare time, she trains horses on her farm. "For me, it is always about work. It's not like idle trail riding. We're always working for a goal, and we prepare for weeks that one to two minutes in the arena. I'm always thinking about what we need to do to improve," she added.

For leisure, she cited Bice as a go-to lunch spot, Imoto or HMF for dinner and friends, and Cucina for its nightlife. Selleck's beauty routine includes regular visits to Fredrick Fekkai Salon on the island and massages at The Breakers when she has an off day.

She also loves dressing up on occasion and prefers the clean, classic lines in Ralph Lauren, and when she is off duty, "you can always find Lululemon in my suitcase."

ROLDAN'S CAREER

As for her significant other, Roldan is an American polo player with an 8-goal handicap rating. He is currently Captain of the American Polo Team and is the leading American polo player.

Born Nicholas, Ezequiel Roldan in Buenos Aires, Argentina, the 38-year-old is often called Nic, the youngest polo player to win the US Polo Open with the Escue Team at 15.

The sport for Roldan is a family thing as he takes after his great grandfather (Audilio Bonadeo Ayrolo, who won the Argentine Open in 1931 and 193), his grandfather and father, who were all polo players and who encouraged him from a young age to play.

Roldan played his first tournament when he was only six and played many other junior tournaments after that. He was awarded the Young Polo Player of the Year title.

To date, Roldan has over 40 20-goal tournaments to his name and another ten at 26-goal or above. In addition to his incredible repertoire, he has been recognized as MVP (Most Valuable Player). He acknowledged his father who supported him and said:

"I was always lucky that my father, in particular, supported me and made sure I had all the right tools at hand to help me progress: be it horses or knowledge."

CHARITIES & HOBBIES

Roldan is also big on philanthropy as he is an ambassador for both the Kids Cancer Foundation and Brooke USA, the world's biggest equine welfare charity.

He has hosted a series of international balls to raise hundreds of thousands of dollars for them. The model is also an ambassador for the Buddy Programme.

As an all-around athlete enthusiast, Roldan also has interests in other sports, including Golf, Basketball, Tennis, Formula 1 Racing, Ice Hockey, Running, and American Football.