When Calls the Heart started filming for Season 9, and the news came from Erin Krakow. WCTH fans know that she speaks with some authority and doesn't usually drop any spoilers not worth knowing about. The beloved actress who plays the role of Elizabeth Thornton seldom disappoints and this weekend, she shared a stunning photo of a night shoot.
When Calls The Heart – Erin Krakow And Other Spoilers
Fans know that Erin and her friend Lori Loughlin still get along famously. So, as she forgave her friend for the college admissions scandal, fans hoped that Hallmark would do the same thing. Although filming has already started for Season 9, fans still hope for a little miracle. Actually, they'd love nothing better than to see Abigail return to Hope Valley and reunite with Elizabeth. Erin actually said "I love Lori and would be so happy to see her back in Hope Valley sooner than later. She's obviously always in my heart, so that would bring me a lot of joy." However, nothing confirmed that she might return.
No photos from the When Calls the Heart set released a glimpse of Lori at all. And, in the photo that Erin Krakow shared of the saloon under the night sky, the people seemed too far away to make out if Lori was there. Previously, Erin shared more photos of the set, and some of them look glorious. Certainly, Hallmark films the show in a very beautiful place. Nevertheless, it's not often that night scenes come along on Instagram.
When Calls The Heart Fans See The Saloon Lit Up
When Erin Krakow shared her photo of the night shoot on Sunday, she just captioned it with, "Fraturday the 13th." All lit up from the heavy-duty lighting for the night shoot, fans thought the saloon looked fabulous. Some fans strained their eyes to try and see if Lucas was around. Actually, some of them think they spotted Chris McNally hear the saloon. Fans are so excited about Elizabeth finding love again and they really hope like crazy that it all works out for her with Lucas.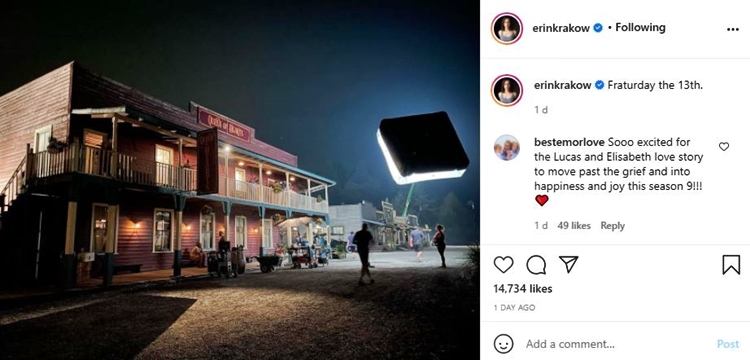 One When Calls the Heart fan commented, "Sooo excited for the Lucas and Elisabeth love story to move past the grief and into happiness and joy this season 9!!! ❤️" Other fans talked about the amazing photo and one of them told Erin, "Multi talent…actress all day photographer and singer in between 😮…❤️" More fans commented on the photo and one of them noted, "Resume update: Set photographer 2021."
Other WCTH Stars Share About Night Shoot
Heavy.com reported that Erin wasn't alone about sharing the night set photos. They noted that Andrea Brooks and Wesley Salter also shared some on their Instagram Stories. Meanwhile, Pascall Hutton who plays the role of Rosemary said the night filming was a "tall order."
Remember to check back with us often for more news, updates, and spoilers about When Calls the Heart on Hallmark.