Chelsey Brown often finds antiques in the market and traces the owner's descendants to return the items. Her recent find, however, allowed her to discover her ancestors. Interior designer Chelsey Brown finds happiness in looking through items in an antique market, not only to use as a piece of art but also to discover family heirlooms.
She usually tracks down relatives to return pieces that belonged to their ancestors, regardless of how difficult it is to locate them. Her recent find, however, had her looking at her own family history.
The 28-year-old was in a New York market when she picked up an old photo album with photographs from 1927. While looking through the pictures, Brown already knew that she wanted to find the owners.
However, the memorabilia only had the first names of people written, making her search quite challenging. So, she sought help from her genealogist dad. Brown shared:
"My dad is a genealogist and growing up, I saw him help families from around the world for free, not only help them with finding heritage but also help them fill in the missing pieces of their family history."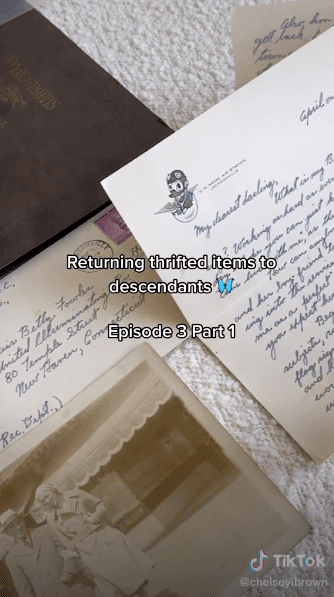 While searching through answers, the duo discovered that those in the photos were their distant relatives, enabling them to find Brown's cousins four to six times removed. Brown took to TikTok with her new discovery. She shared:
"I traced the album a few weeks ago using census records, and I saw that the family member I was returning the album to had similar DNA in common with."
Sadly, the album's owner had already passed away in 2003. He was the son of the people captured in the photos. Instead, Brown was able to connect with her cousin.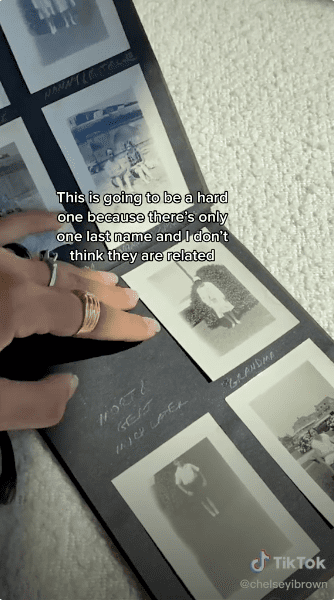 Brown didn't think that her hobby of tracing and returning heirlooms to their rightful families would one day allow her to find relatives.
A similar story previously happened when Lisa Mercanoglu found her long-lost father on Facebook after leaving her at three years old.
Heirlooms and antiques are often costly, but she does not ask anything in return from the families she sends the items to. In fact, she tries to stay in contact with many of them.
Brown's unique story piqued the interest of many TikTok users who shared their sentiments in the comments section of her post. Among them were several users who were amazed at how things turned out for the interior designer. One wrote:
"I love this! I saved an old album with hundreds of beautiful photos from the trash 20 years ago and always wanted to find the family."