7 mins read
An in-depth review of these laptop alternatives
Everyone needs a computer, but not everyone needs all the bells and whistles. Sure, high-end PCs are workhorses for everyday remote work and content production. But unless you're a graphic designer or social media wunderkind, you probably don't need all those shiny and expensive upgrades. Chromebooks are scaled-down portable PCs built for work on the go, or to simply use as a dedicated surfing alternative to your phone. 
Is a Chromebook right for you?
When I think of Chromebooks, two palindromes always come to mind: mom and dad. I'm not saying boomers aren't tech savvy. The poorly-edited Minion meme industry on Facebook and Twitter wouldn't be half as big if it weren't for them. But have you ever seen anyone over 50 open Photoshop or Garageband? I don't mean to single out our elders, just trying to illustrate what I believe to be a pretty good point:
Not everyone needs a full-blown laptop
Regardless of your parental status, a Chromebook still may be right for you. After all, your computer-based needs may not be terribly demanding, so why invest in a fully fledged PC or laptop? Chromebooks come packed with all the surfing capabilities the Chrome browser brings, along with the dedicated Google apps suite including Google Docs and Google Drive. Chromebooks all run ChromeOS, which means there's a wide world of applications and games available via the Google App store. However, not all Chromebooks will run all apps as smoothly as possible. Which brings us to the rubrics I will be using when judging the following Chromebooks. This includes:
The best Chromebooks for starters
Do you have a couple hundred dollars laying around and want to treat the tech neophyte in your life to a good starter computer? Instead of buying some bulky tower desktop, consider one of these inexpensive Chromebooks. 
---
---
Mid-range Chromebooks with shiny upgrades worth the extra cash
A little bit of investment goes a long way in the Chromebook world. Here are some upgrades that may just help your Chromebook go toe to toe with many popular laptops. 
---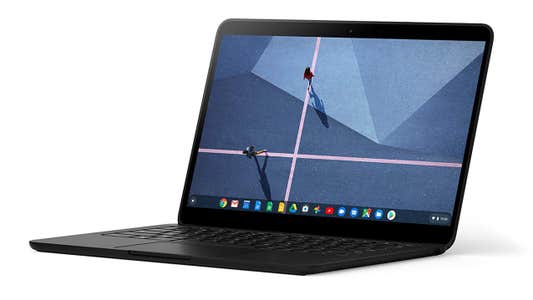 ---
The Best Chromebook
If you have an interesting product you'd like to be featured in an upcoming review, reach out to [email protected] and it just may be!
The Daily Dot may receive a payment in connection with purchases of products or services featured in this article. Click here to learn more.
*First Published: Sep 10, 2021, 10:17 am CDT
Jaime Carrillo

Jaime Carillo is a writer for Pure Nintendo and a plucky YouTube cook. He specializes in writing about console gaming and kitchen gadgets. It comes naturally, considering he's either wielding a massive cleaver or Switch Pro controller at any given point. When he's not cruising through a drive-thru at 2am, he's baking shokupan or whipping up a big pot of Japanese curry. He enjoys retro gaming, geopolitics, and Vic Berger videos.