5 mins read
Release Date, Cast And How To Watch
Robin L Marshall/Getty Images
Since it debuted in 2010, VH1's "Basketball Wives" (though it doesn't always live up to its title) has followed the lives of the wives, ex-wives, and girlfriends of professional basketball players. Over the course of nine seasons, the current and former partners of several famous basketball players fight, laugh, and go on luxurious escapades with one another.
Among the partners of the most famous basketball players who have appeared on the show is Shaunie O'Neal, the ex-wife of Shaquille O'Neal. Apart from being a cast member, O'Neal is the creator of "Basketball Wives." Another cast member, Evelyn Lozada, was engaged to NBA player Antoine Walker for over a decade, according to OK! Magazine.
"Basketball Wives" has been filmed in numerous cities throughout its nine seasons, including Miami, Los Angeles, New York, Houston, and Dallas, per Cheat Sheet.
Anxious to catch up on all of the drama in the 10th season of "Basketball Wives?" Below, we'll reveal the details we know about the latest season of the popular VH1 show.
The 10th season of the show is being filmed now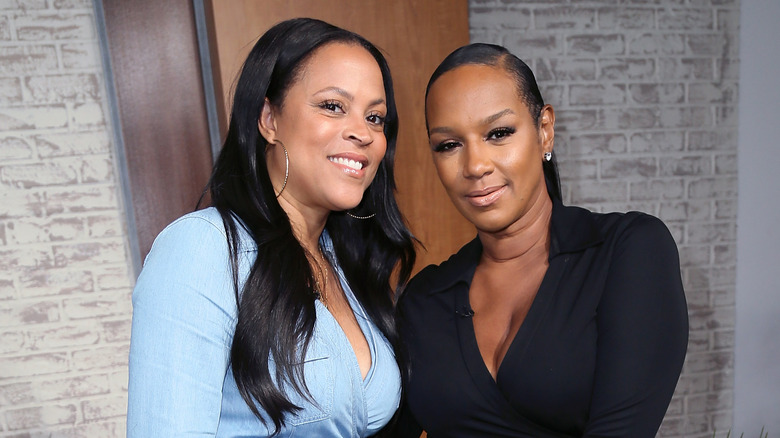 David Livingston/Getty Images
While the premiere date of the 10th season of "Basketball Wives" has still not been announced, HipHollywood reports that several cast members have accepted offers to appear in the latest season. Back in June, HipHollywood reported that filming of the 10th season would begin soon.
The ninth season of the show premiered in February and witnessed the shifting landscape of the cast member's lives as they navigated the COVID-19 pandemic, the fight against social injustices, and plenty of turbulence among the women and their partners. In the ninth season, Shaunie O'Neal relocated to Houston, Texas, to be closer to her children, while Malaysia Pargo taught her children about police brutality, according to Variety. A majority of the season dealt with the Black Lives Matter movement and how conversations surrounding this topic could be made between cast members on the show.
It's likely that the 10th season will premiere later this year or early next year on VH1.
Lozada has stated that she will be leaving the show
Jc Olivera/Getty Images
Over the course of its nine seasons, "Basketball Wives" has seen the coming and going of several different cast members. The show's ninth season featured returning cast members Shaunie O'Neal, Malaysia Pargo, Evelyn Lozada, Jackie Christie, Jennifer Williams, Kristen Scott, Ogom "OG" Chijindu, and Feby Torres. Newcomers Liza Morales and Nia and Noria Dorsey joined the cast in its ninth season as well, according to Variety.
Former "Basketball Wives LA" cast members Brooke Bailey, Brittish Williams, DJ Duffey, and Angel Brinks have all accepted offers to begin filming the 10th season of "Basketball Wives," per HipHollywood. Jackie Christie, Malaysia Pargo, Jennifer Williams, and Nia and Noria Dorsey will also return as cast members. While Shaunie O'Neal is an executive producer on the show, she will only be returning to the newest season in a limited capacity.
Evelyn Lozada revealed on E! News' Daily Pop that she will not be returning for another season. "It's been a hard decision, because I could do it with my eyes closed, but at the same time it's so difficult and it takes so much energy, and it's not the most positive energy," Lozada told E! News' Daily Pop, per Yahoo. "I want to open it up to the universe to allow other things to flow in."
Where to watch the 10th season of Basketball Wives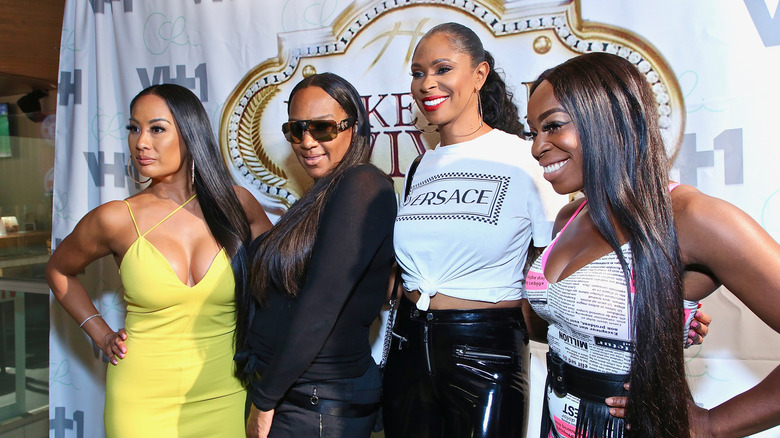 Robin L Marshall/Getty Images
Similar to other seasons of the show, it's likely that viewers can binge the 10th season of "Basketball Wives" on Hulu and Paramount Plus. Additionally, those who would rather view the drama in real-time can do so by catching episodes on VH1.
There are several dramatic twists and turns to look forward to in the coming season. According to Cheat Sheet, former tight friends Malaysia Pargo and Brandi Maxiell will be feuding, though it is not clear yet as to what led to their fallout. Another member of the show is reportedly pregnant while in the middle of a cheating scandal.
As previously mentioned, though filming is reported to be underway, no premiere date for the 10th season has been set at this moment.