A woman was doing the best she could to hide away her heart-broken wails. Responding to this sore sight, a Good Samaritan couldn't help but do everything in his power to raise her sorely low spirits.
New York City aspiring actress Ceara Ledwith sat on a train trying to disguise her tears behind her mask. However, a stranger, undeceived, noticed her battling and approached her with a note that elevated her grief-stricken outlook.
Tanks Good News shared a picture of the heartfelt letter on their Instagram page. It began by expressing that it's difficult to find meaning in life amid dark times.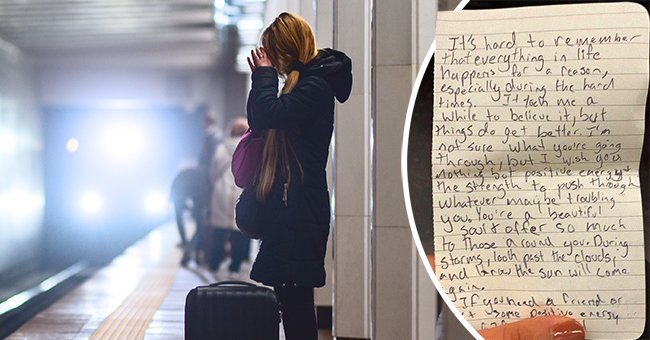 The individual wrote that they battled with this idea, never believing that situations would eventually improve but has learned from experience that, at some point, it indeed does. The note read:
"I'm not sure what you're going through but I wish you nothing but positive energy [and] the strength to push through."
He also mentioned how beautiful the actress was and how much she could offer, leaving his cellphone number on the note if she ever wanted to talk. The majority of the comment section had positive responses to these kind words, but a few thought otherwise.

The performer did reach out to the unknown man via text message. Thanking him for taking the time to brighten her mood, Ledwith expressed that the note truly did make a difference to what was not her greatest day.
The New Yorker also gave him the same compliment he initially granted her, stating that he is also a beautiful soul. The stranger told her that she was truly welcome.
The unknown individual expressed how happy he was that he could help and stated that he desired to combat negativity in the world with a bit of empathy. The man wished her a wonderful day ahead.
Ledwith has had a challenging year. She had already been battling mental health struggles when on that day, she had to quit a class that had been helping her cope — she used it as a creative release.
He wrote that there were "too many red flags" and that she should "run."
When she began sobbing on the subway, the actress made eye contact with a man. Ledwith initially refused the piece of paper, thinking he was trying to sell her something but eventually accepted it, unaware of the beautiful message she was about to read.
These touching notes seem to be spreading with individuals such as the man on the subway making someone's day or an ally at a bar warning a woman of her potentially dangerous date.
Posting as @Hadia__S on Twitter, a woman recounted her story of a considerate person. A gay guy sitting behind her passed her the note when her date went to the bathroom.
He wrote that there were "too many red flags" and that she should "run" — needless to say, the Twitter user didn't go on another date with him. From romantic outings to subways, these letters from the heart are hopefully restoring some faith in humanity.