The couple has been together for 25 years and had some ups and downs in between, including a breakup a day before their wedding. 
If you would like to know the secrets to a long and lasting marriage, you can ask that to Mark Consuelos and Kelly Ripa. The couple tied the knot on May 1, 1996, and has been together since then.
Their love story is so inspiring to many of us that Consuelos debuted a book last year named "What Makes a Marriage Last," sharing some funny stories, memories and nonetheless the secret to what makes a marriage last more than two decades.
Since then, the couple has welcomed their three children: Michael Joseph, 23, Lola Grace, 19, and Joaquin Antonio, 17. The duo has a strong social media presence and they often share cute, romantic and funny moments with their family.
When asked about how everything started between the two, Kelly said that her love for Consuelos was at the first sight. And that was through a photograph, even before they met in person:
"When I saw him, the photograph of him, I saw my entire future with him flash before [my eyes]. I [didn't] believe in any of that and now I do because of that moment."
They officially met on the set of "All My Children," a popular ABC daytime show, in 1995, when Kelly and Consuelo were cast to play a romantic pair on screen.
They immediately fired chemistry, and of course, interest between them. The 50-years old actress said she was drawn to Consuelos because "he was positively an alpha male."
Just a year after they started dating, they tied the knot. The actor popped the question in a very casual set: they were having pizza and wine at his apartment when he proposed to her.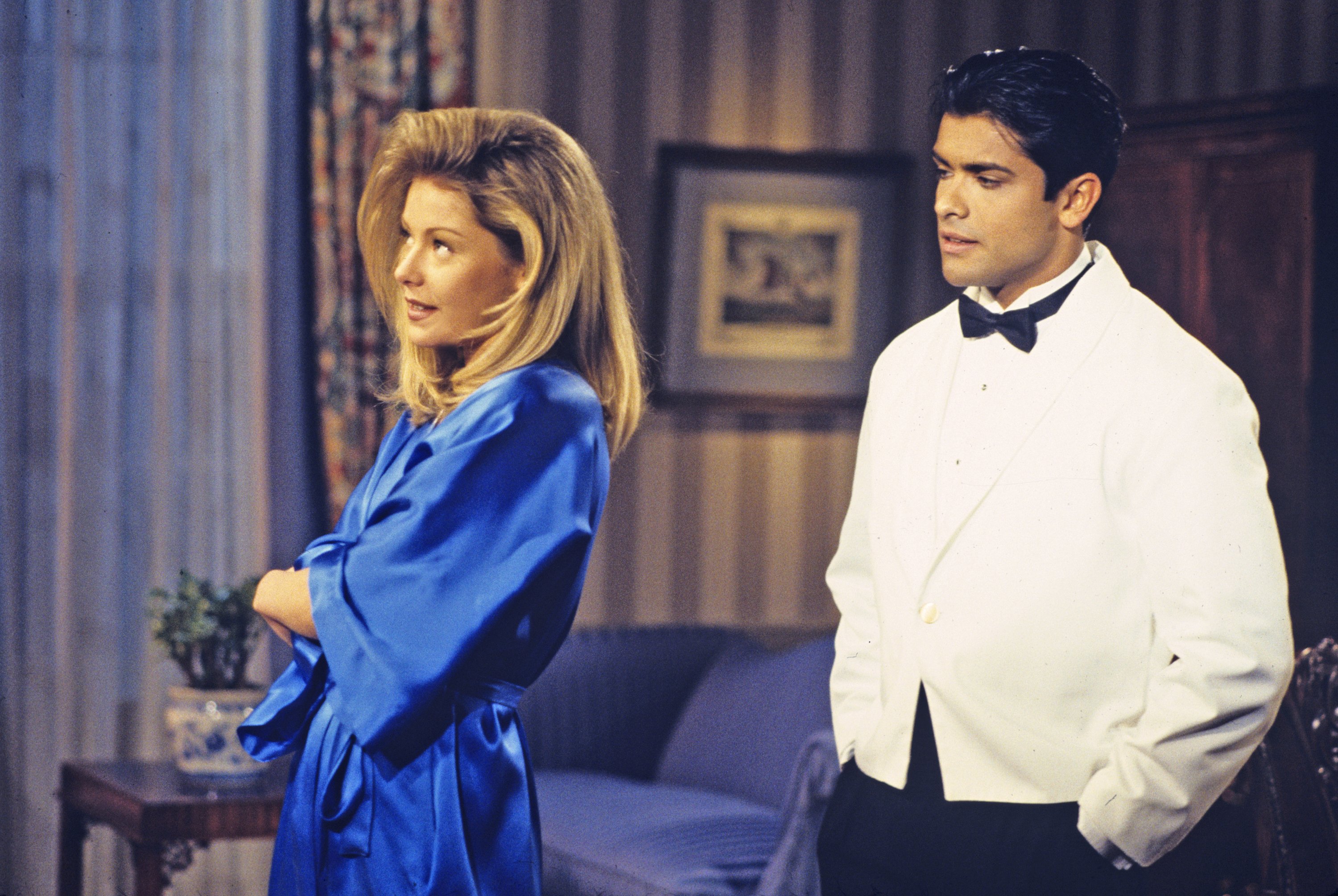 At first, Kelly thought he was joking, but the man was serious. He said:
"'I am serious. Let's go to Vegas tomorrow and get married."
And so they did. After saying yes to each other in Sin City, they honeymooned in romantic Italy. Consuelos shared on his Instagram personal photos of their trip on their 22nd anniversary together.
Another year was completed, and the couple welcomed their first child. Michael Joseph was born on June 2, 1997. The oldest of three siblings is following his parents' steps and taking the acting road. In 2018, he was cast to play Consuelos' "Riverdale" younger character, in season 3.

The proud parents went on Instagram to congratulate their eldest son for the young Hiram Loge role in a funny capture:

"I would like to take this opportunity to remind you and your siblings that as your fiduciaries we are hereby entitled to 10% of all future earnings hereto wit, or something like that."

In 2001, more specific on July 16, the Ripa-Consuelos family grew as they welcomed Lola Grace. Two years later, came Joaquin Antonio, on February 24, 2003.

Even though the couple wed in 1996 in Las Vegas, they haven't officially married nor exchanged rings. On their 10th anniversary, they decided to shop for jewelry and bought rings.

A decade later, the celebration included all offspring. In 2016, they went together to a getaway to Turks and Caicos and Kelly wore her wedding dress during the trip.

This beautiful movie-like love story is far from perfection. Kelly Ripa and Mark Consuelos have shared their multiple stories and ups and downs throughout their 25 years together.

No couple is perfect and as two human beings in a long-term relationship, they also feud about the two most common things couples fight about — sex and money.

In 2007, Consuelos allegedly had a wondering eye towards the co-star of his TV movie "Husband For Hire." However, the 49-year-old actor also had a bout of jealousy while he was out of town and his wife didn't answer the phone for an entire day.

Consuelos shared in the book "What Makes a Marriage Last" that it was in the late '90s, so there were no cellphones back in the day. He was doing a show in Boston and tried to call his wife several times without success. He had a very bad feeling so he hopped on the next flight back to New York.

On the way home, he could finally get in touch with Kelly and he asked what she was doing. She said she was cleaning the apartment, but Consuelos couldn't buy the story, so he didn't tell her he was going home earlier than planned. He thought it was "very fishy," and wanted to catch her.

The actor arrived home and told the doorman to call up their apartment to say there's flower delivery to her. But instead of seeing a flower delivery man at her door, Kelly got her husband barging into their house.

Kelly opened the door wearing a bathrobe and mop in her hands. Consuelos entered the apartment without saying a word. And Kelly, as she tells in the book, is still "waiting for the flower guy!"

Their relationship is much better these days. Consuelos admits that some of his actions in the past were purely out of jealousy and he feels horrible for many things he's done.

Another remarkable story from the couple is the break up a day before their wedding. When he proposed to her in 1996, they had a fight after that and broke up. After the discussion, they were supposed to make an appearance together in "Live With Regis and Kathie Lee."

But Kelly wouldn't talk to her future husband and as Consuelos said, "he got crazy." He then decided to follow her in Central Park. He stalked her and asked her to go back to his place. They sealed the peace and got married the next day.

The couple isn't afraid to share their love with the public. Breakup and stormy fights aside, Consuelos says that "he is crazy about his wife," and that "family is super important" for both of them.