Singer Shawn Mendes revealed all his true feelings during a Vanity Fair lie detector test and did not hold back when questioned about Taylor Swift's British boyfriend. 
On September 20, Vanity Fair posted a new video to their YouTube Channel, in which Shawn Mendes answered all types of questions ranging from his life, his relationships, and pop culture.
The "Treat You Better" singer was encouraged to give his opinions on his relationships with Justin Bieber, John Mayer, his girlfriend Camila Cabello, and surprisingly, Taylor Swift's boyfriend, Joe Alwyn.
At first, Mendes seemed calm as he told the interviewer that he thought Alwyn was a nice guy, although they had never personally met. However, the tables turned when the lie detector picked up that he was deceitful.
With the lie detector operator informing Mendes he was lying, the "Never Be Alone" singer quickly changed his mind and shared his honest opinion of the "Conversations with Friends" actor saying:
"He's kind of got a little bit of a villain look about him. He looks like a nice guy but, like, he at any movement could turn into a villain, you know?"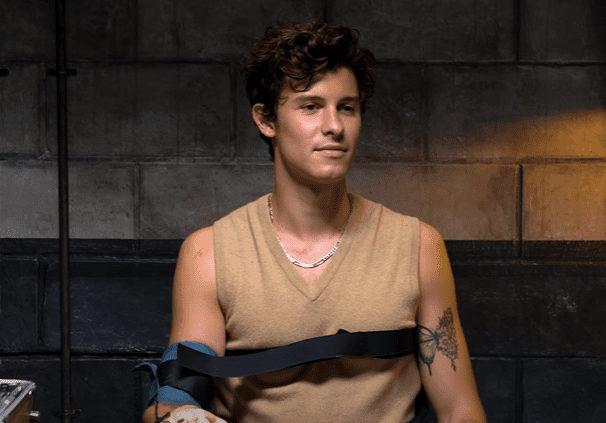 Mendes gave a possible reason to explain his problem with Alwyn. He revealed his bright blue eyes did not sit well with him because he struggles with blue eyes and finds it easier to trust people with brown eyes.  Then he quickly changed the topic by saying he had said too much about Alwyn.
The singer also shared insight into meeting Justin Bieber, who he credits with inspiring him to pursue his music career.
Besides talking about Swift's boyfriend, Mendes shared that the he and Swift were still friends after joining her on tour in 2015. They still text and he regularly asks her for advice on his music.

Mendes also dished on his relationship with his girlfriend and "Senorita" co-singer, Cabello. He admitted that before they dated, she had friend-zoned him a few times:

"Really just a few times by the same girl, but she's my girlfriend now, so everything's okay."

The singer also shared insight into meeting Justin Bieber, who he credits with inspiring him to pursue his music career. Mendes confessed he was nervous when they first met and might have said too much about his love for Bieber's song "Smile."

Mendes' fans, AKA the Mendes Army, quickly filled the comment section of the YouTube video, many pointing out that perhaps he was revealing too much about Alwyn.

Although his comment might not have been the most positive, Swift would disagree with her friend. She and Alwyn were first linked in 2016 and spent a lot of time in quarantine together.

Alwyn even helped her write a few songs for her Folklore album, which she won a Grammy for earlier this year. Swift thanked him for all his help and noted that he loved their songwriting time together.